Ray Business Technologies attended NASSCOM product Conclave at Hyderabad, India
Hyderabad, India - May 20 2016 – Leading Indian IT Services Company, Ray Business Technologies Pvt Ltd, recently attended NASSCOM product Conclave at Hyderabad, India. The National Association of Software and Services Companies (NASSCOM) sponsoredits regional edition of the NASSCOM Product Conclave 2016 at the Novotel Hotel in Hyderabad.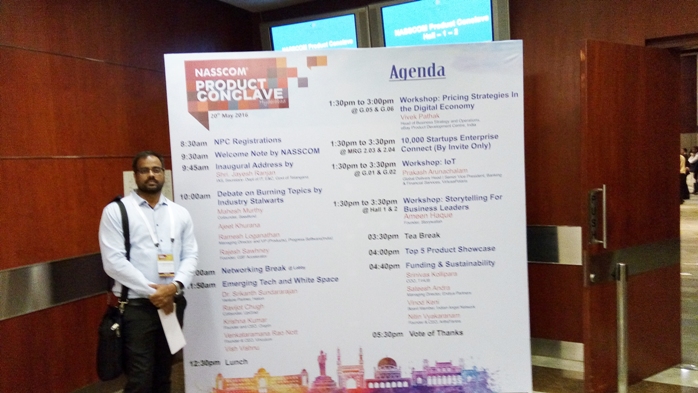 The one day forum served as an essential platform for Indian product startups and promising companies to access support & knowledge existing in the ecosystem. Mr. Rajiv Vaishnav, Vice President, NASSCOM gave the introductory address and the keynote address was given by Mr. Ravi Gururaj, Chairman, NASSCOM Product Council. Many industry leaders from the venture capitalist, business person and consultants attended the conference who shared their views on the developing product landscape.

The Hyderabad version of the conclave witnessed organized sessions for promising entrepreneurs, early stage founders and startup product teams on the intricacy to structure a business entity, safeguarding intellectual property, setting up initial capital, thriving product business & structuring market thrust for early stage products. In addition to this, the conclave exhibited remarkable startups that were a blend of mushrooming product innovations and exhilarating new solutions.

"The product landscape has witnessed marvelous growth, and itis now the fastest growing domains in the industry. With the Internet of Things being the new-fangled land of entrepreneurial opportunity, there is a requirement to develop an ecosystem for transferring knowledge and technological experience among academia and startups" said Mr. Ravi Gururaj, Chairman, NASSCOM Product Council.
About Raybiztech
Raybiztech is a CMMI Level 3, ISO 9001:2008 andISO 27001:2013 Certified Firm and The Member of NASSCOM, HYSEA, AIIA and NJTC that offers complete end-to-end IT Services for Business Enterprise Solutions, Big Data, Application Development, Embedded Systems, Enterprise Collaboration Services,Banking & Finance, Cloud Computing and IT Infrastructure Management, Healthcare, Testing and Quality Assurance Services to companies in the Retail, Media & Entertainment, Insurance, Manufacturing, Leisure & Travel, Energy and Telecom& Utilities verticals as well as Independent Software Vendors.