Ray Business Technologies attended Adtech Australia 2016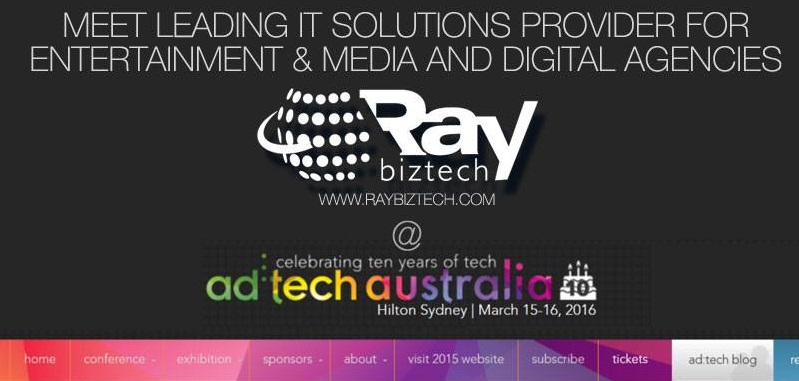 Sydney, Australia - March 15-16th 2016 - Raybiztech attended Adtech Australia, a two day marketing innovation conference & exhibition. The two day event included innovation conference & exhibition designed for business operators and smart marketers that helped our representatives to engage with exhibitors, speakers, other delegates in discussing new ideas and direction for innovative digital marketing activity. Furthermore, it helped in gaining valuable insights in regard to where the present industry is headed.
Adtech is a global conference and exhibition where the technology, Media and Marketing communities come together to share innovative and new ways of thinking, define new strategies and build strong partnerships that will help in addressing key industry challenges.
Some prominent participants this year were New York Times , Woolworths, Google, Marchex, Channel Nine, Adobe, Foxtel, SSI. The exhibitors presented their range of services in the exhibition hall. There were at least 50 exhibitors including Cyberbia, Marchex, Softlayer, Bizbrand, Shootsa, AC Nielson, Delacon, Grethorn etc.
About Raybiztech
Ray Business Technologies is a CMMI Level-3, ISO 27001:2013 and ISO 9001:2008 Certified Company that offers comprehensive end-to-end IT Services for Enterprise Collaboration Services, Application Development, Business Enterprise Solutions, Embedded Systems, Cloud Computing and IT Infrastructure Management, Big Data, Testing and Quality Assurance Services to organizations in the Insurance, Healthcare, Retail, Media & Entertainment , Banking & Finance, Manufacturing, Leisure & Travel, Telecom and Energy & Utilities verticals as well as Independent Software Vendors.