Ray Business Technologies at Open Data Science Conference India 2019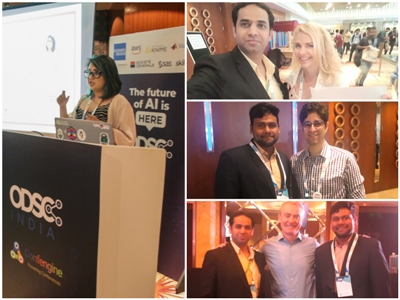 The Open Data Science Conference 2019 was held from 7th-10th August 2019 at Bangalore. The event brought together the brightest thought leaders and intellectuals in Artificial Intelligence and Machine Learning across the globe. The platform offered ways of networking and improving strategic partnerships among various players across the Artificial Intelligence and Data Sciences fraternity.

The four-day event featured two days of comprehensive training sessions around the latest Data Science tools and methodologies, educating tens of budding professionals and fuelling brighter scope for data-science driven processes and practices that shape the Industry 4.0 transformation. This will be propelled by value-added offerings on the back of strong data-driven revolution, according to views shared by thought leaders across several domains.

With some highly impactful tools and open source products, Data Sciences is poised to fuel strategic growth and long-term survival of small and large-scale manufacturing, services, and product-based industries for times to come. In this direction, the event enabled firms to share novel ideas on using ultra-modern techniques such as data visualization wizards and advanced predictive analytics to serve end-users and customers alike.

Raybiztech was delighted to interact with some of the top industry leaders in areas of Artificial Intelligence, Machine Learning, and Deep Learning.

Speakers delivered enlightening sessions on leveraging deep learning and powerful algorithms to achieve consistency and overall process integrity across various business functions. ODSC 2019 also featured panel discussions and brainstorming among top industry executives that lead to path-breaking and innovative ideas aimed at customer-focused innovations within various industries and market segments.
About Raybiztech
Raybiztech is a leading global Information Technology (IT) Services and Solutions provider, CMMI Level 3, ISO 27001:2013 and ISO 9001:2015 Certified Company. Raybiztech offers comprehensive end-to-end IT Services for Business Application Development, Enterprise Solutions, Enterprise Collaboration Services, Testing and Quality Assurance Services, Cloud Computing and IT Infrastructure Management to organizations in the Banking & Finance, Insurance, Healthcare, Manufacturing, Retail, Media & Entertainment, Leisure & Travel, Telecom and Energy & Utilities verticals as well as Independent Software Vendors.