RBT at Kentico Roadshow Sydney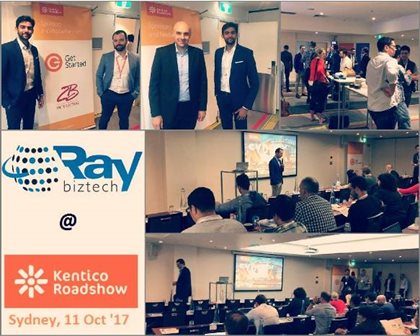 Kentico software adopts the interactive format to bring the general crowd close to the brand. After occurring in a handful of cities, it was the turn for Sydney to host Kentico roadshow October 11, 2017 series that swept people from across the town. The roadshow tactic makes sales go beyond the phone or email and create face-to-face relationships with the live customers.
Raybiztech's team of executives coordinated with Kentico CEO Peter Palas, Kentico community leaders, and
Kentico developers
for spreading product knowledge, trends, updates, and carry live product demos before the spectators.
Kentico community together with Raybiztech and network of partners made the inspirational roadshow both professional and entertaining. The attendees left off with good memories and promotional gears that make them remember the interactive event and most importantly, the Kentico brand.
Targeted Line of Products
The outdoor campaign is sponsored in favorof the Kentico EMS and Kentico Cloud mentioned as below:
EMS: E-commerce Renaissance
EMS: Partnership with Commerce
EMS: New Drag-and-drop Email Builder
Cloud: Content Modelling for Omni-channel Delivery
Cloud: Experience Management for Omni-channel Delivery
Cloud: Microservices Architecture for Omni-channel Delivery
Demand Generation Effort Gains Remarkable Response
The Free-for-all social engagement program brings the technology enthusiasts, marketers, corporate customers, prospects, and partners together on the same track. Kentico is sure about its roadshows to boost their company's bottom line while increasing the new pipeline of prospective adopters.
About Raybiztech
Raybiztech is a CMMI Level 3, ISO 9001:2015, & ISO 27001:2013 certified company that has been gaining recognition in providing end-to-end IT Infrastructure Management, Cloud Computing, Application Development, QA Testing, Big Data, Embedded Systems, Healthcare, and Banking & Finance services to the organizations operating across the USA, Canada, Asia Pacific, EMEA and Pan India.
About Kentico Software
Kentico is the leading ASP.NET WCMS, E-commerce, and Online Marketing platform that offers powerful tools for creating phenomenal websites for the dynamic businesses of today. The robust CMS platform, when combined with the integrated solutions can fully optimize the digital experience across multiple channels.
Get your EMS & Cloud Solutions delivered by Rabiztech, an authorized partner for Kentico