Ray Business Technologies and Kentico hosted the first Los Angeles Kentico User Group Meetup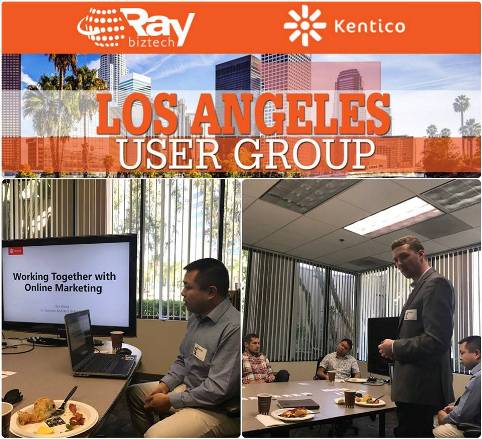 February 23, 2017. Los Angeles, USA. Raybiztech and Kentico hosted the first Kentico-User Group (KUG) Meetup on 23rd February, 2017 in Los Angeles, USA. Many prominent Developers, Marketers, Business owners and Kentico enthusiasts from several companies joined the meetup.

The first Los-Angeles Kentico User Group Meetup excited and enthralled all the participants with Mark Raymonds, Territory Sales Manager of Kentico, digging into the new features of Kentico 10-what's new-what's changed. The meetup also had Rui Ray Wang, Senior Solution Architect at Kentico, who spoke about Online Marketing and CMS Personalization. Furthermore, he also gave an overview of the new 'Kentico Cloud' offering.

The key highlights of this event included
Kentico Online data management and Marketing configuration
Widget and Template for content Personalization
Dynamic Newsletters with macros
Leverage Marketing Automation
Introduction to CRM Integration
This collaborative effort provided knowledge, education and best practices to individuals, who constantly work with Kentico CMS or who are interested to learn more about the Kentico platform.

All the Kentico partners and organizations who worked with Kentico shared their project experiences with KUG attendees. It was a great opportunity for the Raybiztech team to meet the top minds in the Kentico group and gain pragmatic insights on the new features of Kentico.
About Raybiztech
Raybiztech is a ISO 27001:2013 and ISO 9001:2008, CMMI Level 3 Certified Company and the member of NASSCOM, HYSEA, NJTC and AIIA providing wide-ranging end-to-end IT Services for Business Enterprise Solutions, IT Infrastructure Management, Cloud Computing, Application Development, Quality Assurance & Testing services, Big Data, Enterprise Collaboration Services, Embedded Systems, Health Care and Banking & Finance services for companies in various sectors.