RBT acquires Educational ERP Product, QuickEdmin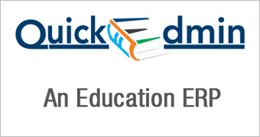 Acquisitions marks Raybiztech's first foray in the education vertical to strengthen stronghold in India outside its largest markets in US and Australia.
Hyderabad, 04 July 2016: Hyderabad based, Leading IT Services Company, Ray Business Technologies Pvt. Ltd. has acquired Digital Education ERP product - QuickEdmin, to strengthen its ED-Tech competency. Raybiztech's maiden acquisition in the education vertical will bolster its existing service offerings, thus deepening its presence in India outside of its largest markets in US and Australia.
QuickEdmin, an Educational ERP, can be easily customized to offer educational institutions the flexibility and scalability to manage all back-office operations seamlessly. Its modules support end-to-end processes for admissions, library, examinations, campus news, hostel, transport, events, attendance, learning dashboards, HR, payroll, pay slip and faculty management. It can seamlessly integrate with other third party systems.
"The acquisition brings out the technical prowess and maturity of Indian digital ERP providers in the education sector that is pegged at $100 billion," says Ajay Ray, Managing Director of Raybiztech. "QuickEdmin draws on the team's 60+ years of experience in education to offer 23 modules that caters to 90% of the enterprise life-cycle requirements of all educational institutions. This makes the product universally deployable in India and other mature markets including USA, Australia and Canada, through minor customizations. It can be deployed in 3-4 weeks at 30% lower costs than custom solutions requiring over 36 week turnaround. We have around 15 clients in Education Domain already in US and Australia, and are planning to target over 100 schools and colleges there," he adds.
"We are thrilled to be part of Raybiztech's team," says Mr. Prassaad D, "educational institutions are looking for agile, integrated solutions to help them build and manage their systems, operations and processes effectively. QuickEdmin runs on Cloud and provides enterprises one-stop solution to manage back-end operations seamlessly and go-to-market swiftly. Besides our shared values we hope to bring our understanding of learning, managing operations and improving productivity at Raybiztech," he concluded.
Raybiztech will continue to strengthen its enterprise solutions to beef up its domain competencies and is slated to make more acquisitions in the near future.
About Ray Business Technologies Pvt. Ltd.
Ray Business Technologies Private Limited, a CMMI Level 3 Company, is one of the leading Global Information Technology (IT) Services and Solutions Company. They provide cutting-edge IT Solutions to leading enterprises worldwide. Their excellent team of Technology Professionals work with enterprise clients in North America, Latin America, Australia, Europe, Middle East and Asia.
Started in 2009, Raybiztech has grown significantly and current operates from global offices in India, USA, Australia and UK with over 280 resources. Raybiztech provides IT Solutions in Enterprise Resource Planning (ERP), Enterprise Portals and Content Management (EPCM), Customer Relationship Management (CRM), and Enterprise Mobility including Product Development and Life-Cycle Support.
Read more at http://www.raybiztech.com
About QuickEdmin
QuickEdmin is a leading ERP Ed-Tech Software, specifically designed to cater the needs of all Educational Institute. It facilitates Educational Institutions to adapt the best industry practices and streamline their processes. QuickEdmin is highly flexible, user-friendly and runs on Cloud.
QuickEdmin ERP System provides user-friendly dashboards for teachers, staff, students, parents and management personnel. The various modules available in QuickEdmin facilitate all the processes of your institution, from admission of new students, learning, timetable, library to generating transfer certificates. QuickEdmin ERP offers solutions to manage Timetable, Attendance, Examinations, Gradebooks, Campus News, Hostel, Library, Transportation, School Calendar, Events and many more. It has a fully-fledged Human Resource module to manage the payroll and employee pay slips. This also seamlessly integrates with all third party systems.
Read more at http://quickedmin.com