Ray Business Technologies Private Limited Appraised at CMMI Level 3
October 6th, 2015- Hyderabad, India/Melbourne, Australia/Dallas, USA/Toronto, Canada — Ray Business Technologies Private Limited today announced that it has beenappraised at Level 3 of the CMMI Institute's Capability Maturity Model Integration (CMMI)®. The appraisal was performed by Concept QA Labs.
CMMI® is a capability improvement approach that provides organizations with theessential elements of effective processes that ultimately improve their performance.An appraisal at maturity level 3 indicates the organization is performing at a "defined"level. At this level, processes are well characterized and understood, and are described instandards, procedures, tools, and methods. The organization's set of standard processes, whichis the basis for maturity level 3, is established and improved over time.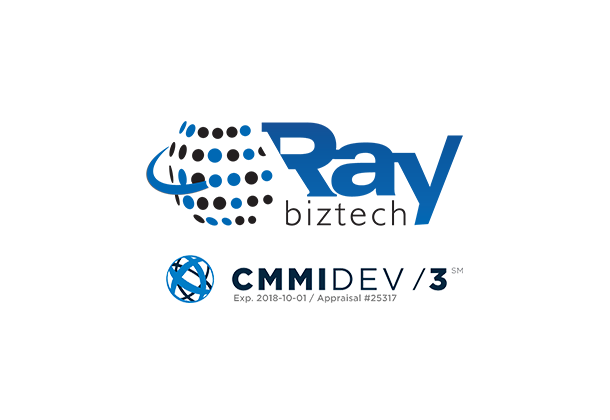 Founded by experienced entrepreneurs, Ajay Ray, and Ajay Gupta, Ray Business Technologies Private Limited is a Global Information Technology (IT) Services and Solutions company. Raybiztech provides cutting-edge IT Solutions to Enterprises worldwide, enabling them to utilize available resources effectively and manage the operations.
"Being appraised at CMMI Level 3 is a key endorsement of our processes and capabilities. The appraisal, coupled with the ISO 9001:2008 and ISO 27001:2013 certifications is a testament to our commitment to providing quality IT solutions through continuous process improvement," said Ajay Gupta, CEO of Raybiztech. "We will continue to maintain high quality of services and provide our clients with solutions that offer measurable impact to their bottom line."
Raybiztech will utilize CMMI's proven approach to drive out real benefits of improving projects predictability and consistency. At the same time, CMMI driven process improvement also delivers real cost savings such as earlier and more effective error detection, and hence reduced cost of remediation, more effective management of change so you spend less on re-work, reductions in schedule variability and increased cost predictability. Raybiztech's CMMI will deliver a framework to standardize our processes, ensuring that our best practices are captured, shared and adopted so that Raybiztech becomes a Though Leadership company.
Raybiztech offers comprehensive end-to-end IT Services for Business Application Development, Enterprise Solutions, Enterprise Collaboration Services, Testing and Quality Assurance Services, Embedded Systems, Cloud Computing and IT Infrastructure Management to organizations in the Banking & Finance, Insurance, Healthcare, Manufacturing, Retail, Media & Entertainment, Leisure & Travel, Telecom and Energy & Utilities verticals as well as Independent Software Vendors.
Raybiztech provides IT Solutions in the areas of Enterprise Resource Planning (ERP), Enterprise Portals and Content Management (EPCM), Customer Relationship Management (CRM), Enterprise Mobility and Cloud including Product Development and Life-Cycle Support, have resulted in significant strategic and cost advantage for their clients worldwide.
For more information: www.raybiztech.com
About CMMI Institute
The CMMI® Institute, a subsidiary of Carnegie Mellon University, is dedicated to elevating organizationalperformance through best-in-class solutions to real-world challenges. The Institute isthe home of the Capability Maturity Model Integration (CMMI)® for Development, Services, andAcquisition; the People Capability Maturity Model; and the Data Management Maturity Model(DMM)SM, which are capability improvement models that create high-performance, highmaturitycultures. The models are used in thousands of organizations worldwide to deliverbusiness results that serve as differentiators in the global market.
For CMMI: www.cmmiinstitute.com