Ray Business Technologies gets associated with UK Based KannadiGaruUK as Technology Partner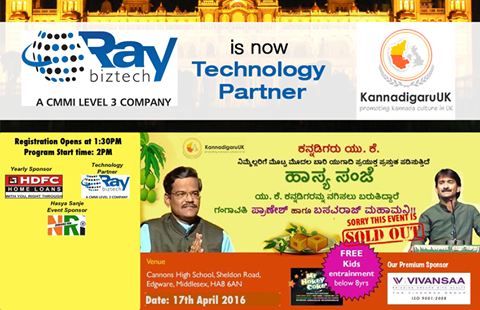 Hyderabad, India - April 13, 2016 - Ray Business Technologies is now Technology Partner with UK based, KannadiGaruUK (KUK) which helps in promoting Kannada culture and events in the United Kingdom. KannadigaruUK organizes social, cultural, recreational, educational and other welfare activities every year and which is an Integral Part of Indians living in the UK.
By organizing Blood Donation Camps, Social Exchange Programmes, Volunteering, Charity Activities KannadigaruUK brings pride and goodwill to the Kannada Community and it welcomes everyone who wish to contribute to KannadiGaruUK. Raybiztech wishes all the best to KannadigaruUK Team.
About Raybiztech
Ray Business Technologies is a CMMI Level-3, ISO 27001:2013 and ISO 9001:2008 Certified Company that offers comprehensive end-to-end IT Services for Enterprise Collaboration Services, Application Development, Business Enterprise Solutions, Embedded Systems, Cloud Computing and IT Infrastructure Management, Big Data, Testing and Quality Assurance Services to organizations in the Insurance, Healthcare, Retail, Media & Entertainment , Banking & Finance, Manufacturing, Leisure & Travel, Telecom and Energy & Utilities verticals as well as Independent Software Vendors.