Ray Business Technologies attends Microsoft Inspire 2017 Summit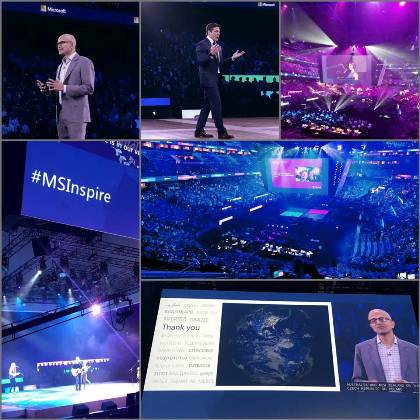 Microsoft Inspire, previously known as Microsoft Worldwide Partner Conference (WPC), is the world's largest business partner community of Microsoft Corporation. Every year, Microsoft Inspire anchor's Global Partner Summit for its technology allies for inspiring them to have a promising future. The hyper-solution stampede hosted by Microsoft Inspire aims to inculcate conclusive changes in thousands of organizations and their pattern of business for amplifying productivity.
Inaugural Day
Microsoft Inspire-2017, Microsoft's biggest partner event was orchestrated on Saturday, the 9th of July
More than 16,000 Microsoft Partners along with bureaucrats, technocrats, and other attendees joined in the inaugural speech.
Event Proposed a Mixed Breed of Agenda
First day of the meet saw masses of Microsoft fans, followers, and technology fraternity who flocked into the Walter E. Washington Convention Center in Washington, D.C
Audience graced the most awaited entrepreneurial event of the calendar year and took notes orated by the visionaries on the dais
Visitants were exposed to a broad range of opportunities which would enable them to grab tangible business benefits in the upcoming fiscal year
Ray Business Technologies Private Limited registers its presence in the mega meet
Raybiztech was no way behind in the sublime event as the company CEO Chaitanya Mudunuri along with his panel of dignitaries had witnessed the meet.
Mudunuri walked ahead to establish dialogues with the Microsoft partner community, affluent competitors, candidates, and sponsors in the concert chamber
Together with his batch of business-centric intellectuals, Mudunuri plugged in with the various sessions, workshops, partner celebration, corporate exercise, and exposition
Microsoft CEO Satya Nadella shares his "Scheme of Plans" with the spectators
The luminary CEO of Microsoft, Satya Nadella had enlightened the live audience in the hall with his visionary theories, thesis and ideologies capped with creativity
Nadella spoken on empowering organizations of all sizes, profitable business models, innovative technologies, paradigm shift, homogenized market conditions, quantum computing, DNA storage, digital transformation, and on the futuristic technology for corporate sustenance
Microsoft Inspire-2017 Bids Adieu to all
The mega event sponsored by Microsoft had finally drawn the curtains down on 13th of July with a big token of thanks
The meet left-off from the hall for returning next year with a different frame of mind
About Us
Ray Business Technologies Private Limited is a CMMI Level 3, ISO 9001:2015, & an ISO 27001:2013 certified company that has been gaining remarkable recognition in dishing out Off-the-Ground ERP solution and end-to-end IT services to the divergent industrial verticals across the USA, Canada, Asia Pacific, EMEA and India.