Kentico User Group - Dallas Metroplex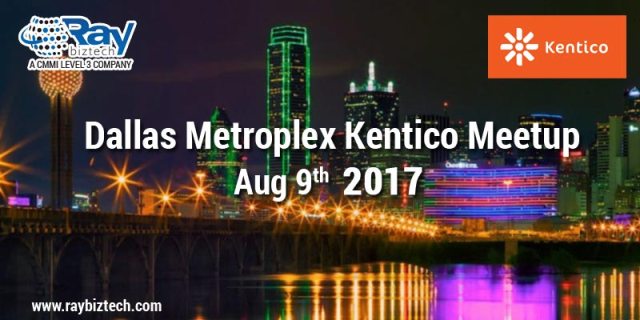 We Ray Business Technologies LLC are proud to host the Dallas Metroplex Kentico User Group Meetup on August 9, 2017 06:30 – 08:30 PM at 6010 W, Springcreek Parkway, Plano, Dallas Texas 75204.
Who Can Join in the Kentico Meet?
We invite all the Online Marketing Affiliates, Business Buffs, IT Wizards, Tech Geeks, Virtual Webbers, Websters, Sitesters, Back/Frontend Developers & Mainstream Audiences.
Kentico Calls You to Action:
Kentico Meetup proposes to bypass your paradox related to Content Management.You can now explode your Content Horrors by knitting yourself with Kentico CMS. Remember that, Linguistics & Logic may leap your website from point A to point Zee, but the power of Kentico will sledge your site to infinite success.
Our Presentation Topics: Kentico + Azure Recommender
Below are the key features:
Created user interface for model (for multiple page types), catalog, usage and build
Displaying status for catalog, usage and build
Displaying list of created models in a table format with three action items (Edit, Delete, Rebuild)
Displaying recommendations based on item to item and user to item with image
Task scheduler for catalog, usage and build
Multiple selection of activity types
Deleting the builds related to that model
Background process for updating catalog, usage and triggering the build
Kentico Q&A Round:
After the Pretty Pact Presentation, we welcome everybody to clear their queries directly by our Top-notch Kentico Consultants.

Be an Early Eagle & Flock to Block those Limited Front-most Seats in the Hall Today!

Join the meetup group and stay updated on future events.
https://www.meetup.com/Kentico-User-Group-Dallas-Metroplex/