Ray Business Technologies wins Kentico site of the month May 2023 award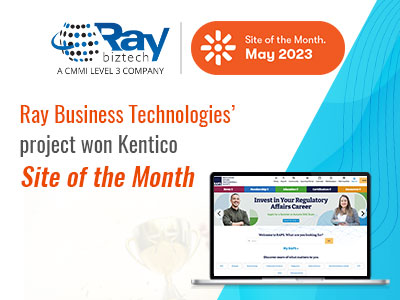 Ray Business Technologies, a Global Information Technology (IT) Services and Solutions company, has received the esteemed Kentico Site of the Month award for May 2023. The award recognizes RBT's unmatched experience in Kentico development, implementation and upgrade. Kentico, one of the major content management system(CMS) and digital experience platform(DXP) provider, selects outstanding websites that showcase creativity, functionality, and innovation that benefit the clients. This Kentico upgrade has helped our client with faster loading time, improved performance, scalability, and security. Also, the website has seen an increase in customer engagement.
The prestigious award brings global recognition, increased visibility, and an enhanced reputation for Ray Business Technologies. It distinguishes them as a leading Information Technology (IT) Services and Solutions company and is expected to attract new clients and projects, enabling them to continue delivering exceptional digital experiences.
Ray Business Technologies is known for its innovative and results-driven solutions. RBT's comprehensive IT services encompass web design, development, branding, and digital marketing. RBT's commitment to excellence has earned them a strong reputation in the industry.
For further information, please contact Ray Business Technologies at +1 650 670 7605 or
[email protected]
.