Great Visionaries, Great Meetings, Great Atmosphere, Great Learnings all the way!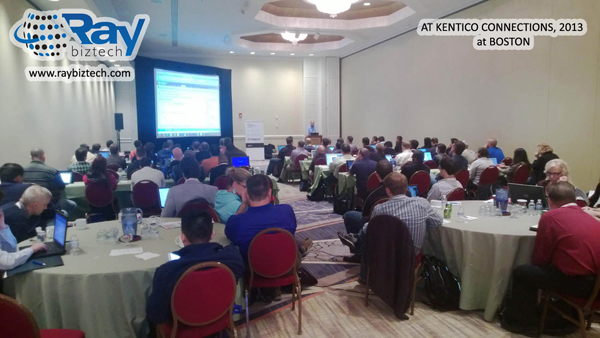 Great Visionaries, Great Meetings, Great Atmosphere, Great Learnings all the way!
September 25th Boston, USA. Kentico Connection 2013, on September 23rd and 24that Boston, USA was a two-day conference for developers, marketers, partners and business owners looking to derive maximum value and return from their marketing efforts. The show featured three exclusive tracks that attendees could register separately fortogether delivering more than 30 sessions on up-the-minute trends, industry insights, and partner case studies that demonstrate the level of sophistication made possible by the right combination of marketing tools, creativity and expertise:
"Digital marketing is about more than just technology," said Petr Palas, Founder and CEO of Kentico Software. "It's also about creativity and know-how. That's why this year's Kentico Connection USA conference promises to be the best yet, with a new Marketing Track featuring insight from some of the most experienced and cutting-edge professionals in the business."
About Kentico CMS
Kentico CMS is an enterprise Web Content Management System and Customer Experience Management solution that provides a complete set of features for building websites, intranets, community sites and e-commerce solutions on the Microsoft ASP.NET platform, on premise or in the cloud. It supports mobile websites, SEO, document management, online marketing tools, multilingual websites, and multisite management, and comes out of the box with 70 ready-to-use modules, 400 configurable Web parts, and source code available by request.
Kentico CMS customers can expect a highly flexible platform with a uniquely easy-to-use user interface. It's currently used by more than 16,000 websites in 90 countries. Clients include Microsoft, Guinness, Chiquita, Vodafone, O2, Orange, Brussels Airlines, Mazda, Ford, Subaru, Isuzu, Samsung, Gibson, ESPN, DKNY, Abbott Labs, Medibank, Ireland.ie and many others.
About Ray Business Technologies Pvt Ltd
Ray Business Technologies Pvt Ltd, is Kentico Gold Partner, and the first Kentico partner to hit double digit Certified Developers on staff on Kentico CMS. Raybiztech™s Enterprise Portal and Content Management Team boasts certified professional project managers and Kentico developers; has extensive large-enterprise experience in Kentico Development with award-winning portfolios. Ray Business Technologies Pvt Ltd has demonstrated strong Kentico CMS competency, commitment and investment in R&D over the years towards building an excellent Kentico Team. Ray Business Technologies has been working with fortune clients on their large Intranet and Internet implementations based on Kentico CMS, helping them with complete IT Solutions, ranging from Business and IT Consulting to Process re-engineering and Maintenance. Please note: All product and company names herein may be trademarks of their respective owners.