Interactive breakfast session on Winning Digital Transformation Projects Globally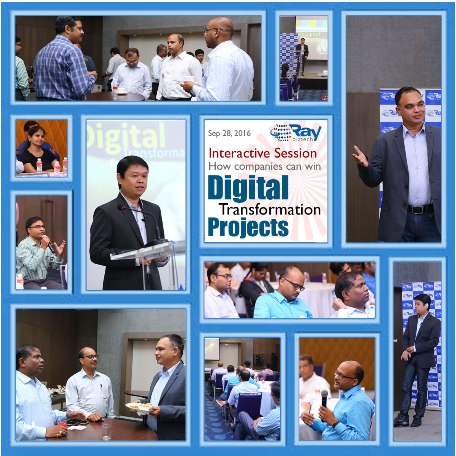 Hyderabad, India, September 28, 2016. Ray Business Technologies Private Limited, a leading Indian IT firm, organized an Interactive Breakfast Session by Eugene Paden, Raybiztech CTO, for Indian Companies to share knowledge on winning Digital Transformation Projects Globally on September 28th, 2016 at Hotel Avasa, Hyderabad.

Mr. Eugene Paden, who has over 25 years of experience in leading business critical digital transformation project's initiatives in leading enterprises worldwide, shared valuable insights on Digital Transformation projects, which is the Integration of digital technology into all areas of a business resulting in fundamental changes to how businesses operate and how they deliver value to customers, are large in nature. The current market is expected to grow from USD 150 Billion in 2015 to USD 370 Billion by 2020, at a CAGR of 19.6%.

He further highlighted and explained various Digital Transformation Elements and Client's various methods of Technology Vendor Selection Process, including Customer Experience, Operational Process, Business Model, Discover, Qualify and Selection.

The event was attended by top companies' CXO in Hyderabad and they interacted during breakfast and post session with Mr. Eugene to get more knowledge on Digital Transformation, Application Performance Optimization, Cyber Security, Load Management, Analytics and Cloud computing.
About Raybiztech
Ray Business Technologies Private Limited, CMMI Level 3 certified, is one of the leading Global Information Technology (IT) Services and Solutions Company. They provide cutting-edge IT solutions to leading enterprises worldwide. Their excellent team of technology professionals work with enterprise clients in North America, Latin America, Australia, Europe, Middle East and Asia.