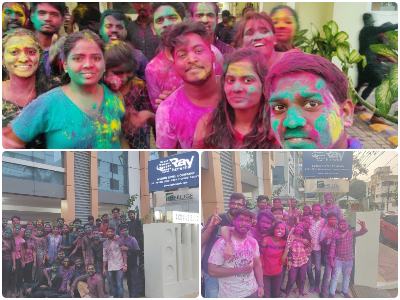 Ray Business Technologies engages in festivities whenever there is a purpose for doing so. So, whether it's a festival or another joyful occasion, we at RBT make it a point to celebrate each one. It not only helps to mark the event, but it also refreshes and rejuvenates the employees.
Here at RBT, the Festival of Colors "Holi" has long been one of our favorite celebrations. Every year, we try to do something unique. On Holi, we celebrated this festival of colours at our main office in Hyderabad on 18th March. Holi is one of India's biggest festivals. It is widely observed in various parts of India, as well as globally. Holi is, in fact, a festival of love, friendship, joy, and happy times.
We at RBT wish that this Holi gives you and your loved ones not only color, but also good health and wealth during these hard times.
It was a lot of fun, and everyone on the RBT team had a wonderful day!