Ganesh Pooja celebration at RBT, Hyderabad Office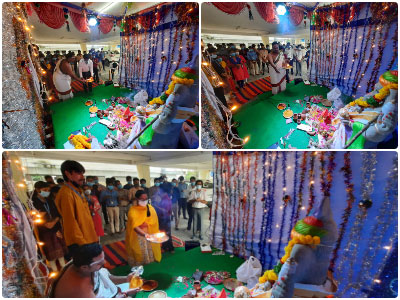 RBTians celebrates Ganesh Pooja with much excitement and fun at the Hyderabad office. Ganesh Chaturthi was celebrated with much enthusiasm and fun, with Sweets, Music, Colour, and Traditional attire. Ganesh Chaturthi, as we all know, is a Hindu celebration dedicated to Lord Ganesha. The planning had started two days before, with a variety of themes in mind. The floor was covered in vibrant Rangolis, and the hall was beautifully decorated with flowers.
The RBT family faithfully attended the puja, with everyone nicely dressed in traditional attire. As the priest started the puja, the music club played a melodic Ganapati song. The puja reflected the RBT family's festive atmosphere.