Improving end user experience & gamifying for leading media & broadcasting company
Our Client Network is the leading Radio Broadcaster in India through its presence across 48 cities caters to over 40 million listeners. The client offers advertisers a number of distinctive opportunities to reach their target audiences using any of our specialized verticals.
In order to add depth to their outreach to listeners and increase their engagement with their platform, the client needed Enterprise mobile app with better usability and smart features.
Goals
The client had various objectives, mainly:
Client's mobile application were missing with the important Search features, which increases number of steps for navigations to a particular audio/video file.
It was not so efficient application, lacked smooth navigation and had application freezing issues.
Client required additional functionality such as subscribe/ unsubscribe a category and also contest module where user can participate in a quiz and win prizes.
Moreover, the client had encountered lot of major bugs related to audio and video pods.
Challenges
The key challenge of this mobile app project were:
User needed better usability and navigation to find an audio file
The need for deep linking concept with 3rd party tool for accessing application from social networks
Creating separate contest page with multiple questions and displaying their results with sharing functionality through deep linking
Audio and video screens data needed to be dynamic
Subscription mechanism for categories
Solution
RBT team delivered an excellent Mobile application and creative ideas to the client:
RBT team defined the complete application scope and suggested to implement search functionality in the app where user can search an audio and video files.
Recommended MVC architecture for developing application to ensure bug free application
Implemented Branch SDK for deep linking concept to make sure application should open from any social network on clinking of deep links provided by Branch SDK.
Integrated contest page where user could participate in contests and also see their results. User could also share the results through any social media.
RBT integrated audio boom in CMS to configure the data. By running CRON Jobs in different time interval's, CMS was able to send required data to the server.
Integrated subscribe / unsubscribe functionality to make sure user can select / deselect his own category and access it from FOR YOU section.
Result
The new Mobile app was able to provide essential services to Users in more efficient anduser friendly environment:
The App was able to attract new users to the client, witnessed the Increase in users sign up to 33%
Increase in average users' engagement duration and Increase in unique visitors on the website
Improvement in social media engagement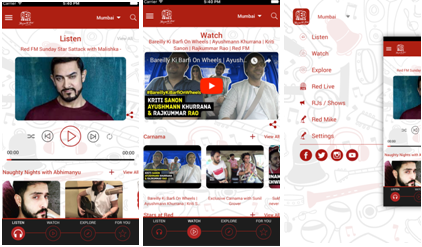 About Ray Business Technologies Pvt Ltd
Ray Business Technologies Private Limited is a Global Information Technology (IT) Services and Solutions company. We are a CMMI Level 3 company, providing cutting-edge IT Solutions to Enterprises worldwide, enabling them to utilize available resources effectively and manage the operations. Our excellent team of Technology Professionals work with enterprise clients in North America, Latin America, Australia, Europe, Middle East and Asia.