Optimizing exchange server for better managed email flow for mining company
As a specialized mining services and bulk logistics provider, the client had been working on disparate Office 365 applications locally hosted on different exchange servers. To streamline the Office 365 email management and the performance of network resources, the client required migration of distributed Office 365 applications on to single-tenant cloud network.
Executive Summary
As a logistics firm that has been running distributed applications with disparate Office 365 subscriptions for parent and subsidiary locations, the client required integration of various child nodes with a single parent tenant connected to the Office 365 exchange server.
Goals and Challenges
The requirements encompassed steady migration of all disparate tenants to a single parent Office 365 tenant with complete data migration and sync up of e-mails. The client aimed at overhauling multiple Office 365 exchange servers running in hybrid mode into a single node using Azure AD Connect platform.
Solution
RBT analyzed the hybrid arrangement of Office 365 applications and then used Azure AD Connect to sync users by integrating three Active Directory forests to the Office 365 single-tenant parent. The migration ensured consistency among e-mail applications and server integrity with cloud-based configuration.
Office 365 Tenant Migration
Performing analysis of the current hybrid directory and exchange servers
Selection of Multiple-Forest and, Single-Tenant topology for migration
Syncing of 3 Active Directory forests with single parent tenant using Azure AD Connect
Running the ShareGate utility to complete entire SharePoint migration
Leveraged BitTitan to perform the email migration for all Office 365 users
Performing MX record cutover after all emails were synced to the Office 365 tenant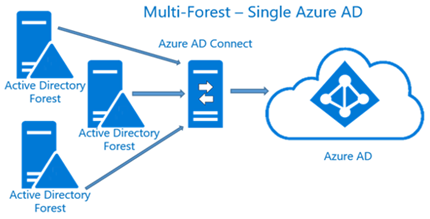 Benefits/Business Case
The single Office 365 tenant optimized network bandwidth with genuine utilization of resources and email servers across the network. The users were able to able synchronize e-mails and generate requests and correspondence in a centralized Azure mail management system powered by the configuration of a single-tenant and multi-forest network.
About Ray Business Technologies
Ray Business Technologies Private Limited is a Global Information Technology (IT) Services and Solutions company. We are a CMMI Level 3 company, providing cutting-edge IT Solutions to Enterprises worldwide, enabling them to utilize available resources effectively and manage the operations. Our excellent team of technology professionals works with enterprise clients in North America, Latin America, Australia, Europe, the Middle East, and Asia.