User Friendly Design, Responsive and Intuitive Web Application for a Leading Advertising Services Company
Taxlinked.net is an international online tax community based outskirts of Europe. It is a unified café or an online meeting point for all the acclaimed tax professionals, fellow advisers, lawyers, law firms, trustees, banks, company formation agents and tax clients looking for the futuristic opportunities in the tax stream.
Taxlinked network was in a deep need to design an ultimate hub for the intellectual members for availing the chance of getting interactive with the concentrated tax professionals materials, messages, comments and more. The prospective project would be helpful in rewarding financial gains along with the expansion of the knowledge graph of the individual/groups in the tax circuit.
Executive Summary
Taxlinked.net owned a web application that was unconditionally large, chunky and was discrepant of the most basic interactive feature to bind the beneficiary members online. The so called user-friendly application had turned away from offering smooth navigation while disrupting flow of communication in the network.
Client was upset with it's poorly rated web search engine that has caused unpredicted delays in member registration leading to diminution of business prospects. Thus, the very intention of retaining an interactive web search application was compromised under such extreme circumstances.
Challenges & Implications
Engrained challenge was to facilitate integration with TokBox, Platform-as-a-Service (PaaS) into the hosted infrastructure for customer interaction
Core integration of the hosted system with the critical 3rd party tool –TokBox for building live interactive chat/video/voice messaging and screen sharing into the web/mobile app was tough mandate
It was an obstacle to bring about the file/documents exchanges during the ongoing text chat/voice/video calls as TokBox was not at all compatible with the aforesaid traits
User chat box detained to provide any other features apart from adding additional chat participants
Send messages, minimize & close options remained a setback
Solution
Ray Business Technologies was able to provide restorative technology solution to the client in an optimistic way. It worked jointly with the client to participate in a series of super-studio sessions on standardization of the web search.
It eventually developed intuitive accelerators and solutions that enabled the client to safeguard its majestic business margins while securing client churn-outs.
Our Kentico developers made an inch-perfect examination of the technologies at the underground levels and consequently administered Kentico open source CMS with Web API for 3rd party integrations.
Integration with TokBox vitalize embedded communications combined with live interactive chat/video/voice messaging & screen sharing
File/documentation exchange implementation gained with ease of use features
User wise box revamped with superlative features such as group information, withdraw participants & exit conversation
Benefits of Kentico CMS with Web API on Business Cases
TokBox is a Platform as a Service (PaaS) solution used hosted infrastructure, APIs & tools required to deliver enterprise-grade WebRTC capabilities
Alternative solution drafted by Ray Business Technologies exposed Taxlinked network with the world of exposure
Prodigious platform offer the fellow members of Taxlinked.net to interact online & establish business relationship beyond the cultural boundaries
Key criteria for selecting Kentico CMS
Highly maintainable Kentico CMS 8.2.24 offer all of the mandatory modules necessitated by Taxlinked.net
Content staging alternatives available while working with multi-versions of the hosted site
Seamless Document Management System frameworks
Smooth transformation of persistent UI without barricading the business
Quick integration with 3rd party applications via Web API
Flexibility to choose between "Code First" & "Data First"
RAD-Rapid Application Development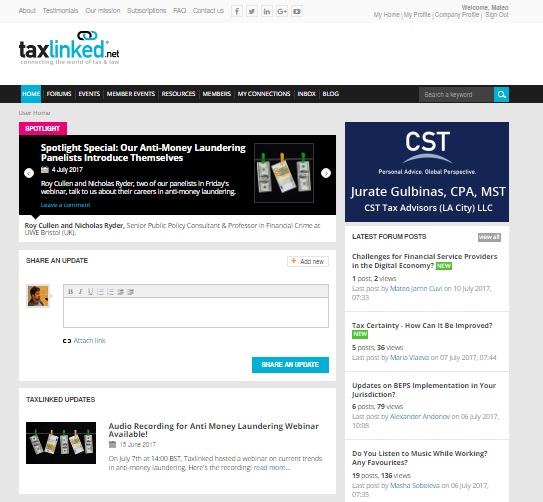 About the Company:
Founded in 2009, Ray Business Technologies Private Limited is a Global Information Technology (IT) Services and Solutions company. Our strong systems and processes; CMMI Level 3, ISO 9001:2015 & ISO 27001:2013 Certified; enable our excellent team of Technology Professionals to provide cutting-edge IT Solutions to Enterprises worldwide, empowering them to utilize available resources and manage their operations effectively by improving efficiency, optimizing services, securing information and reducing costs in North America, Australia, Canada, Europe, Middle East and Asia.
Ray Business Technologies offers comprehensive end-to-end IT Services for Business Application Development, Enterprise Solutions, Enterprise Collaboration Services, Testing and Quality Assurance Services, Embedded Systems, Cloud Computing and IT Infrastructure Management to organizations in the Banking & Finance, Insurance, Healthcare, Manufacturing, Retail, Media & Entertainment, Leisure & Travel, Telecom and Energy & Utilities verticals as well as Independent Software Vendors.
Our innovative IT Solutions in Enterprise Resource Planning (ERP), Enterprise Portals and Content Management (EPCM), Customer Relationship Management (CRM), and Enterprise Mobility including Product Development and Life-Cycle Support, have resulted in significant strategic and cost advantage for our clients worldwide.
Our solution-driven approach makes us a strategic partner to Fortune 1000 enterprises. Our strong domain expertise, global work culture and technical excellence help companies to get ahead and be ready for future. We enable our clients achieve competitive business advantage through our flexible and next generation global delivery models, agile development methodologies and expert frameworks.