Raybiztech's Enterprise Portal IT Services on Liferay has excellent experience in delivering best-in-class portal solutions, with professionals having hands on experience and domain expertise to support you with all your Liferay needs, whether they are technology consulting, implementation, migrations or new enhancements.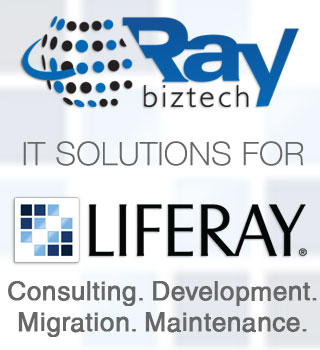 Liferay is the leading open source enterprise portal platform, based on latest in Java and Web 2.0 technologies. Liferay portals run on all major application servers & servlet containers, databases and operating systems with a strong developer community, so you do not need to invest in new infrastructure or technology stack.
Raybiztech's Liferay competency help you building business solutions that deliver immediate results and long-term values. We enable organizations to leverage their existing applications, data stores to provide information on demand and to help business managers make effective decisions.
We at Ray Business Technologies, have industry proven methodology and processes for the enterprise portal practice.
What we do
Liferay Technology Consulting
Liferay development, integration, migration and support services
Portal design/consulting
UI design, customization and information architecture
Implementation for intranet, internet and extranet
Integration with existing line of business applications
Custom workflows
Set up rules using Drools engine
Integration with social media
Enterprise Application Integration
Users training
SLA based maintenance and support
Design &development of site themes and templates
Development of custom web parts
Knowledge sharing workspaces
Liferay Advantages
Exceptionally low total cost of ownership
Content & document management with Microsoft Office® integration
Enterprise application integration is easy with flexible SOA architecture
Runs in your existing IT environment
It is easy to use HTML WYSIWYG editor
Secure single sign on (SSO) granular, role-based authorizations
Out of the box enterprise collaboration features