DotNetNuke EPCM Solutions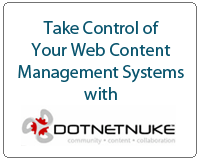 Built on strong Microsoft ASP.NET (VB.NET) platform, Dotnetnuke (also known as DNN), is a Web Content Management System (WCM), helping organizations worldwide to build and manage content-rich websites, social intranets and online communities effectively.
DNN is the most widely adopted Web Content Management Platform for Microsoft .Net, powering thousands of Portals and Websites worldwide. The powerful web application development platform allows businesses to easily customize and extend their websites to multiple countries, languages and devices.
Advanced Web Content Management System
DotNetNuke delivers a powerful content management solution with an intuitive interface designed for non-technical users. It includes a powerful suite of applications for a wide variety of web development needs.
Optimized Content for Mobiles and Tablets
DotNetNuke CMS helps organizations of all sizes to deliver consistent online experiences for thousands of unique hand held devices. Features for managing mobile device detection, page routing, site groups and delivering content optimized for mobile browsers will help you build and maintain highly modern websites.
Performance & Scalability
DotNetNuke website are scalable and grows with you. DotNetNuke includes features for page and module caching to speed the delivery of web pages and provide visitors with a more satisfying experience. DotNetNuke provides web farm support to increase performance and guarantee content delivery.

Secure Sites with Enhanced Security
DotNetNuke helps to secure one of your most important business assets. It provides security roles, a granular permission solution and content approval workflows that lets you control who can view, edit and publish content on your site. DotNetNuke also includes powerful features to monitor the health of your site, detect changes to your source code and proactively notify you about security updates.
Collaborate and Manage Documents
Available exclusively in the DotNetNuke Enterprise Edition, the Microsoft SharePoint Connector enables fast, secure publishing of documents stored in SharePoint to public web sites, extranets or intranets. You can securely manage your document library within SharePoint and selectively publish specific documents using the flexible, cost effective DNN platform.. DotNetNuke also includes a full document management solution which allows your organization to store, control and view documents online.
Powerful Development Platform
DotNetNuke is both a powerful Web Content Management System (CMS) and a Web application development framework. The flexible DotNetNuke architecture allows you to easily add functionality or change the appearance of your web site through the addition of DotNetNuke apps. You can choose from thousands of commercial apps in the DotNetNuke Store, hundreds of free apps in the DotNetNuke Extensions Forge, or build your own custom apps. DotNetNuke features an open API to empower your own custom app development.
Raybiztech offers a range of DotNetNuke Solutions to fit your needs and budget. Our Dotnetnuke Solutions help you make the most of your DotNetNuke website with New development, enhancements, Maintenance, Services and Support. We can build:
Dynamics Content Management Systems
Social Media Portals
Company Intranets
Human Resource Portals
Video Job Sites
E-commerce Websites
Travel Website with online booking
Agents Microsites and Affiliate Management Systems
Real Estate Websites
Music Portal
Tender Portal
Survey Management
Campus Management
Hospital Management System
Raybiztech DotNetNuke Development and Customization solutions include.
DotNetNuke Custom Design Templates and integration
DotNetNuke Version Upgrade
DotNetNuke Module Development (DNN Development Services)
DotNetNuke Skin Designing (DNN Skin Design Services)
Custom web application development
Business logic and data integration
Business process integration
3rd party Module integration
DotNetNuke Portal Development
DotNetNuke Administration and Maintenance (DNN Maintenance Services)
DotNetNuke Installation and Configuration (DNN Installation Services)
DotNetNuke Migration (DNN Migration Services)
DotNetNuke customization (DNN Customisation Services)
DotNetNuke business logic and data integration
Professional DotNetNuke support
Dotnetnuke on SharePoint (DNN SharePoint Connector)
DotNetNuke QA and Testing (DNN Testing Services)
DotNetNuke Custom Modules Development and integration