Sitefinity WCMS Solutions
The platform for your Content, CRM, Marketing Automation and Web Analytics to deliver a personalized customer experience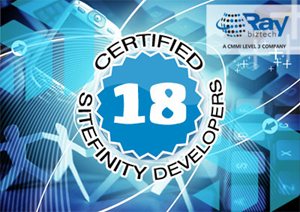 Understanding what are Customers' likes and dislikes, have never been so critical for businesses to succeed in today's ever increasing competitive market. Collecting, accessing and applying information wisely is vital to drive better business outcomes. Additionally, challenge become stiffer when businesses are faced with challenge of maintaining different systems for content, crm and marketing.
Sitefinity, a pioneer in Web Content Management System a niche player in Gartner's CMS magic quadrant 2016, has been working with Businesses to provide them an integrated solution to help them succeed. Sitefinity WCMS, with an exceptional user-friendly intuitive interface with contextual guidance, enables business users with minimal technical knowledge, to create excellent user experiences with personalized content, execute digital campaigns, and run e-commerce - on all devices and in multiple languages, which enables technical resources to focus on more meaningful tasks rather than maintenance.
Ray Business Technologies has years of experience working on Sitefinity WCMS. Our dedicated Sitefinity competency team, with a large number of Sitefinity certified developers, has number of successful implementations, integrations with leading 3rd party software products, workflow development, multilingual support, automating marketing and develop online commerce shops.
Our team of Sitefinity Developers provide you most robust and scalable application development. Our Sitefinity WCMS solutions are designed to accomplish your specific business requirements as per your business needs.
Raybiztech is a leader is providing Sitefinity Technology Solutions worldwide. We have been focused on providing on-time and on budget solutions through our time tested agile systems and processes. We are CMMI Level 3, ISO 9001:2008 & 27001:2013 certified, and silver partner of Microsoft.
Raybiztech is Progress Sitefinity's trusted Service Delivery Partner, System Integrator Partner, Referral Partner and Reseller.

Sitefinity WCMS Features:
Web Content Management
Ecommerce
Digital Asset Management
Workflow
Content Organization & Personalization
Multilingual Support
Online Dynamic Forms
Build once, run anywhere concept with Mobile and all display devices compatibility
Integrated Marketing Solution with Web Analytics
Multisite Management
Performance & Scalability
System Integrations & Deployment
Pages & Content Authoring
Administration & Security with intuitive user interface for non-technical users
Development Platform
Included Developer Tools
Raybiztech's Sitefinity WCMS Capabilities:
Enterprise Content Management
Upgrade * Enhancements
Dedicated Support & Maintenance
3rd Party and Legacy Systems Integrations, i.e. SharePoint, Dynamics CRM, SAP, Salesforce etc.
E-commerce
Workflow
Integrated Marketing Solution
Cloud Enablement and Deployment
Intranet
Mobile Applications