Leading integrated e-commerce and Pimcore platform, delivering rich and compelling experiences across channels.
When you are planning to automate your company's knowledge, content product management, you come across these probing questions:
What are the other costs, other than license fee (if there is one), I anticipate for the upkeep of my CMS, Digital Asset and Product Management? Will those be one-time, periodic, or annual costs?
Do you provide periodic backup of my application data?
How does the CMS vendor or consultant handle ongoing support of the system? Is there a good support system/community available?
How can I manage all product information from one single platform and repository? How all my applications and marketing channels can get real-time correct product data?
How to send personalized product data to my clients?
How is the data stored in your CMS? Is it easy to move to a different platform?
How easy is the system for non-technical users? How customizable is the system?
Will the new CMS integrate with my CRM or online marketing tool?
Pimcore is the answer to your business critical Technology requirements. Conceived from necessity of wanting a better way to consolidate PIM, DAM, WCMS and e-commerce platforms, Pimcore today is the most advanced open source content management and e-commerce solutions in leading enterprises.
Pimcore is the leading platform for Content, Digital Asset, e-commerce and Product Information Management with omnichannel marketing features. This platform and user interface is so Intuitive with contextual help that the non-technical users are able to complete their work without any technical assistance.
Pimcore's robust features; such as workflows, access rights, user roles, digital signage, omni-channel marketing and product information management with e-commerce; create a solution that supports your specific business needs and a foundation for colossal possibilities. It has exceptional support systems and developer community, ensuring your Pimcore Solution is always scalable and advanced. Pimcore can be integrated swiftly with your other enterprise systems and applications, making it easy to exchange data among system.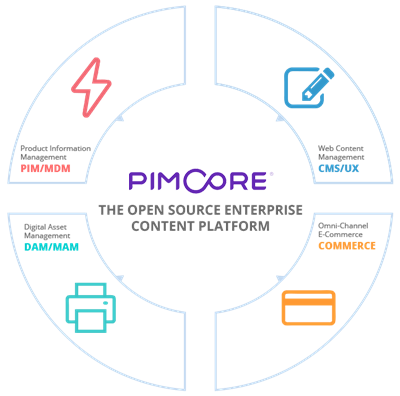 As a Pimcore CMS Silver Partner, Raybiztech is the leading service provider that offers innovative and cognizant Pimcore solutions, creating value to leading enterprises around the globe.
We work with you to understand your business short and long term goals and then develop tailor-made Pimcore solutions for you. Raybiztech specializes in providing end-to-end comprehensive IT Services, which accelerates the growth of our client's business to gain competitive edge.
Our CMS services are well backed by various domain knowledge and experience that enables our clients to streamline their respective process and well collaborate with their customers and employees. Raybiztech is one of the Uncompromising CMS partners well known for reliability, productivity and efficiency.
Our Pimcore solutions include:
Pimcore CMS Consulting and Development
Pimcore Site Architecture Planning
Custom Pimcore Modules
Pimcore Upgrade
Migration to Pimcore
Product Information Management System Development
Digital Assets Management Systems Development
Multichannel E-Commerce Development
Digital Signage
Web-to-Print
Pimcore User/Admin Training
Product search and navigation configuration
Configurable shopping cart implementations like multi-vendor shopping carts
Custom Reports Development