Kentico Xperience 13 Technical Support Services
Ray Business Technologies is Kentico Gold Partner and has the largest team of Kentico Xperience 13 Certified Developers in the world. Our Kentico Xperience 13 Technical Support Services has established a reputation for consistently delivering mission critical, technically challenging projects under stringent timelines with exceptional technical service and support to our clientele globally.
Raybiztech's Kentico Xperience 13 Technical Support Service is a premium support offerings for mission-critical Kentico Xperience 13 Solutions. Our Technical Support Services are designed to improve productivity, ease resource and skills constraints, streamline project management, reduce the risks of costly downtime, optimize system performance, increase security, compliance and return on IT investment.
Our strong Kentico Xperience 13 development and Support methodologies ensure that your project is completed on time, within budget, and to complete satisfaction.We are rewarded with exceptionally positive long-term working relationships with our clients. Many of our clients have been with us for more than 5 years and many more for more than 3 years.
Raybiztech Kentico Xperience 13 Technical Support Services augment your current capacity and let you focus on your core solutions. We help you with strategic planning, designing and developing Kentico Xperience 13 Solutions, to complete deployment, Migration, Upgradation and enhancements, delivered on-time and on-budget. All support services comes with a Service Level Agreement (SLA) that specifies guaranteed response and resolution time, so you are assured of world class support services.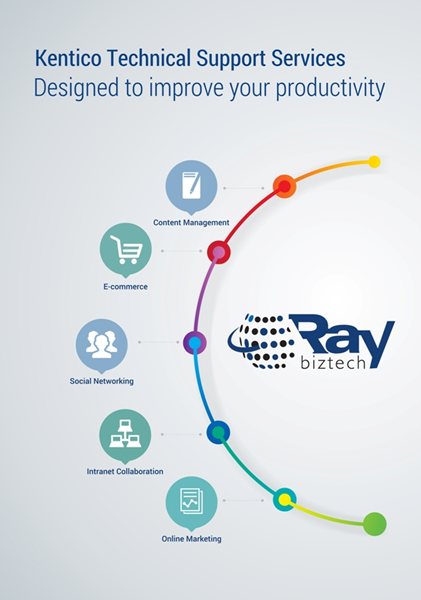 Our typical Kentico Xperience 13 Technical Support Services used world class Project management System, Version Control system, CRM for trouble tickets management, and all project goes through complete project life cycle – Assessment, Planning, Design, Development, Training, Testing, Delivery and Ongoing Support.
As a leading Gold-Certified partner, Ray Business Technologies, offers Kentico Xperience 13 implementations, system integration, migration,technical support, licensing, and training. Raybiztech works closely with digital agencies and corporate clients across the globe to successfully deliver Kentico Xperience 13 Web solutions.
RBT Kentico Xperience 13 Support Desk enables our clients to take advantage of our vast experience in developing Kentico-centric solutions and our experienced and certified Kentico Xperience 13 Developers to assist in managing your Kentico Xperience 13 and enhancing it.
Key Kentico Xperience 13 Technical Support Services include:
Custom web part development
Kentico Xperience 13 Version Upgradation
Responsive Web Development
Kentico Xperience 13 Mobile Development
Kentico Xperience 13 Database Management
Installing, configuring, upgrading and maintaining application & database(s). This includes updating processes, data flows, and objects
Kentico Xperience 13 Manual and Automate Testing
Application Issues Identification and resolution
SLA based Management of changes to the system to support end users
Performance of required security activities such as backups, contingency planning, and audits
Social Media Integration
Usability Testing
Webmaster and Website Maintenance