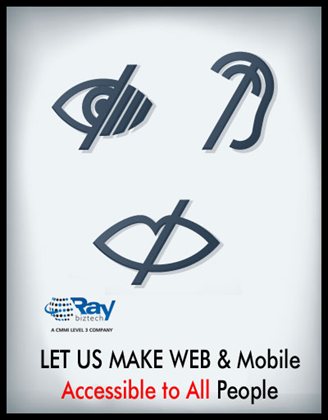 Web accessibility means access to the Web or systems by everyone, regardless of disability. According to W3C, The Web is fundamentally designed to work for all people, whatever their hardware, software, language, location, or ability. When you design an application, system or website, you include accessibility guidelines to make it accessible to people with a diverse range of sight, hearing, movement and cognitive ability.

People with different kinds of disabilities include:
Visual:

Described graphics or video;
Well marked-up tables or frames;
Keyboard support, screen reader compatibility;

Hearing:

Captioning for audio, supplemental illustration;

Physical, Speech:

Keyboard or single-switch support;
Alternatives for speech input on voice portals;

Cognitive, Neurological:

Consistent navigation, appropriate language level;
Illustration; no flickering or strobing designs.

Accessibility is essential for developers and organizations that want to create high quality applications, websites and web tools, and not exclude people from using their products and services.

There are several instances, when differently abled users have complaint about lack of accessibilities in companies' services and systems. Recently a Blind woman, Maria Mendizabal, complaint ontop 30 websites over handicap accessibility in USA, Canadian Government directed leading companies to make their system accessible or other developed countries asked their departments sites to be accessible. In today's world, accessibility is very important than ever.

Accessibility also benefits people without disabilities and useful for everyone in a variety of situations.
Raybiztech's Web Accessibility Solutions
Accessibility Consulting:
Our innovative accessibility consulting is a three step process of Assess, Remediate and Integrate meat to mitigate risk and ensuring accessibility is done right. This enables faster adoption of new technologies to address your business goals and requirements. Our accessibility consulting services ensure that your applications and products are usable by people with disabilities and meet industry standards; the ADA, WCAG 2.0 and Section 508 standards.
Accessibility Assessment and Implementation:
Our Accessibility Assessment & Implementation Services include Risk Reviews gap analysis, Accessibility Analysis, Accessibility Audits, Assistive technologies competitive testing and compliances audit. Once we have our Assessment done, we help our client in implementing these accessibility factors in their applications, websites and systems. We have extensive experiences in developing & automate accessible code, CSS, user interfaces and instructions.
Web & Mobile Accessibility Testing:
Our experienced Testing & QA team provides Web & Mobile Accessibility testing services, which looks at compliances with W3C, section 508 and web accessibility standards.
Accessibility Training:
Our Accessibility training is useful for all those interested in enhancing their knowledge to promote and provide environments designed for all users no matter their physical abilities. Our accessibility training tailored to your specific needs and taught by our accessibility experts. We provide trainings through onsite in-person training, video conferencing, and various lessons & questionnaire formats.
Our Accessibility training have topics on:
Accessibility 101
Section 508 compliance standards
Mobile accessibility
W3C WCAG 2.0 guidelines
HTML5 & ARIA
Software accessibility
PDF Accessibility
Accessibility testing
Raybiztech has been working with leading groups to bring focus on Usability and Accessibility during various conferences and other aspects of life. Recently, the Business Card Accessibility campaign, "#CardsForSuccess", was appreciated by leading CXOs and Marketing groups across the world. The campaign was aimed at making Business card fonts more readable by CXOs over the age of 40, since people at this age may have Vision issues. It is remarkable to note that Raybiztech campaign, "#CardsForSuccess" brought a significant change in more than 300 years' history of business cards.

Raybiztech also run various CSR campaigns for differently abled people. One of its campaign to Lit heavy vehicles' rear with radium stickers to alert people, driving in the night won critical CSR award in India.