Trends for 2018: Moving towards cloud based ERP!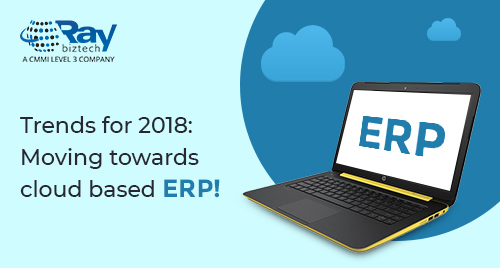 Enterprise Resource Planning (ERP) is considered as one of the oldest segments of the business software landscape; however, even though its ancient place in businesses, ERP software is far from being a latent area of technology. ERP enabled processes have increased visibility and helped companies to reduce costs, gain a competitive advantage, and have added an extra value to their software investments. Vendors such as Oracle and SAP have been the key players in the ERP arena, nevertheless, over the last few years many emerging companies are providing less complex installations allowing them to push themselves into the market.

1. Moving towards intelligent ERPs - Companies are moving towards intelligent ERPs that are advanced and work efficiently when compared to generic Enterprise Resource Planning systems. These intelligent ERPs, have capabilities like Machine Learning (ML), Internet of Things (IoT), Artificial Intelligence (AI), and advanced analytics, which enables users to go deep into big data. This will help in better analyzing and forecasting, thus, organizations will enjoy enhanced business processes and can make optimum use of resources.

2. Cloud ERPs - It is the time when everything is designed according to cloud. Cloud based ERP will be highly successful as more and more vendors are shifting their focus towards cloud based offerings. SAP S4HANA, Microsoft Dynamics 365, Oracle Cloud, etc., are already being used by many companies globally.

3 Small & mid-size ERP -The upcoming year will witness ERP focused on small & mid-size companies. With cloud deployment options along with augmented usability will majorly drive the growth of ERPs in the smaller and mid-sized companies segment. Moreover, reduced cost of implementation will also help in making ERP a feasible resource for companies of all sizes.

4. Digitization - With continuously changing global economy, more companies are scaling for growth are now making huge investments in digital transformation activities. Besides, more companies are planning to leave their legacy systems and are hence going through most important, market-driven transformations. This large digital transformation can be a strong possibility that many companies are expected to resume their ERP system strategies.

5. Two-tiered ERP - It refers to an arrangement, where the company headquarters uses one ERP system while a subsidiary of the company at a different location uses another ERP system. It is beneficial specially for enterprises that run various processes at multiple locations. A two-tiered ERP arrangement meets the requirements of all locations with a better cost effective structure. It is best suited for large enterprises.

6. Hybrid ERP Options - Several vendors allow a mixed hybrid model that offers the flexibility of new modules to be linked with an existing ERP without having to build everything from scratch.

7. Mobile ERP Solution - The mobile platform enables professionals and salespeople to access data with just one click. As we use mobile devices for every small requirement of ours, companies are now choosing ERP solutions that work well with Mobile technology. The key business benefit of Mobile ERP for organizations is the facility for employees to retrieve information on the go and make timely decisions.

Companies usually upgrade to modern ERP systems in order to access the Digital World; Mobile, Analytics, Social platforms, and make optimum utilization of their resources. It does not matter whether you are a small company or a large organization, upgrading to latest ERP solution will help you to be ahead in the market.
About Raybiztech
Raybiztech is a leading global Information Technology (IT) Services and Solutions, a CMMI Level 3, ISO 27001:2013 Certified Company. We are a Member of NASSCOM, HYSEA, NJTC, and AIIA. Raybiztech offers comprehensive end-to-end IT Services for Business Application Development, Enterprise Solutions, Enterprise Collaboration Services, Testing and Quality Assurance Services, Cloud Computing and IT Infrastructure Management to organizations in the Banking & Finance, Insurance, Healthcare, Manufacturing, Retail, Media & Entertainment, Leisure & Travel, Telecom and Energy & Utilities verticals as well as Independent Software Vendors.