What is IBM Cognos Analytics Reporting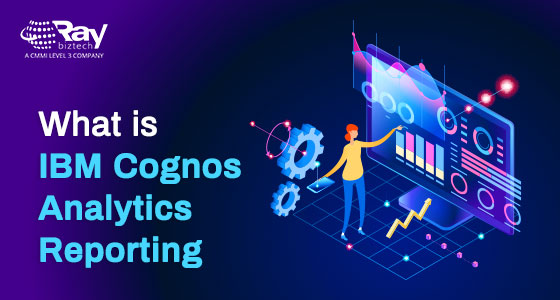 IBM Cognos
Cognos is a performance management and business intelligence software primarily used by business users without having any technical knowledge. Enterprise sized organizations will also use Cognos to extract and analyze corporate data and extract reports to help take better business decisions.
How does IBM Cognos work?
IBM Cognos Analytics integrates reporting, analysis, modelling, dashboards, stories, events in order to understand the organizations data that can be used for making better business decisions. Once the software is installed and configured, administrators set up security and manage data sources with ease.
Cognos Reporting
IBM Cognos Analytics Reporting is a Web based tool that professional report authors and developers use to build sophisticated, multiple pages, multiple query reports against different databases.
IBM Cognos Analytics is an AI-based business intelligence platform that supports the complete analytics cycle, from discovery to implementation. It is used to visualize, analyse and share actionable insights about the data with the staff in your organisation. With Cognos Analytics - Reporting, one can create any kind of reports that the organization requires, such as invoices, statements, weekly sales and inventory reports, etc
Features
The user interface
The interface has the option to create a new report or by opening an existing report in the Cognos Analytics portal.
Work in design, preview, or structure view
IBM Cognos Analytics - Reporting has basically 3 views : Page design view, Page preview view, and Page structure view.
Report layout and queries
The reports have 2 basic components: a layout component that defines the report appearance and a query component that defines report data.
Report objects
Reports are built by adding objects and manipulating them to obtain the desired results.
Relational and dimensional reporting styles
You can create reports in IBM Cognos Analytics - Reporting using either a relational reporting style or a dimensional reporting style.
Options in Reporting
You can set various options that control the appearance and behavior of IBM Cognos Analytics - Reporting (More icon more icon, Options).
Web Browser Settings
IBM Cognos Analytics - Reporting can be used in the Microsoft Internet Explorer, and Mozilla Firefox web browsers.
Language Settings
One can select language for the IBM Cognos Analytics user interface in case the data and reports are available in multiple languages, you can also select the language for the content.
Creating Reports in Cognos
While creating reports, a report specification is created initially. This define the queries which in turn prompts that these can be used to retrieve data, the layouts and the styles are used to present the data.
Options available in Reporting Section
Templates and themes
Adding data
Inserting a single data item
Including output from a notebook
Validating a report
Running a report
Sharing content
Creating Reports for Cognos for Microsoft Office
IBM Cognos for Microsoft Office provides an integrated environment for IBM Cognos products and MS Office. IBM Cognos for Microsoft Office can be used to select certain reports to embed in Excel workbooks, Word documents, PowerPoint presentations, including data, headers, footers.
One of the major criteria most businesses have to consider while choosing an Analytics and Reporting tool is whether their data sources can be integrated with this tool or not. It may also lead to a difficult situation if the data sources cannot be integrated with the tool. Using IBM Cognos Analytics, businesses can easily integrate data from all their sources and store it in a centralized data warehouse that supports better connectivity.
About Raybiztech
Raybiztech is a leading global Information Technology (IT) Services and Solutions, a CMMI Level 3, ISO 27001:2013 Certified Company. We are a Member of NASSCOM, HYSEA, NJTC, and AIIA. Raybiztech offers comprehensive end-to-end IT Services for Business Application Development, Enterprise Solutions, Enterprise Collaboration Services, Testing and Quality Assurance Services, Cloud Computing and IT Infrastructure Management to organizations in the Banking & Finance, Insurance, Healthcare, Manufacturing, Retail, Media & Entertainment, Leisure & Travel, Telecom and Energy & Utilities verticals as well as Independent Software Vendors.