Know 5 Industries embracing New Technologies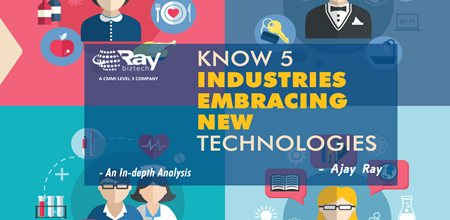 "Every generation needs a revolution." – Thomas Jefferson.
Needless to say, technology has always given infinite revolutions for humans at every stage. Adapting to the changing technology has now become very important for all the business units in order to strike the competitive edge. Amidst this competition, we have also witnessed business that lately have adapted to this change. No doubt that this change will only bring a positive affirmation to success, it is imperative too, to understand the impact that it has on every single step.
Many new technologies technology like cloud services, augmented reality, machine learning, big data, Virtual reality etc. has completely changed the way the business and organization runs these days. There are many sectors who have become prone to use the updated technology in their day to day business.
Few such sectors are mentioned below:
Retail
The increased craze and sales through the online stores have left retailers to acclimate to the newer approach and serve the customers with what they want. In a first, the retail business are now choosing to go digital with touchscreen inventory, automated data store of all the products, easy information to the customers, new product placement design and the list goes on. The retails sectors have well embraced robotics, e commerce platform, drone delivery and many other technologies for better operations. The advancement has also reached to a level where entrepreneurs are using the latest heat map technology that will help them read the consumer behavior and measure the maximum time where the customer is focusing on.
Hospitality
Food is bliss. However, restaurants that just offer food and basic facilities now a days are not something that we choose for. There lies a greater degree of customer experience with smart technology. Many of the restaurants are choosing digital options like, digital menu, easy ordering of food, easy billing, and much more. While, food no doubt is the primary look out, the technological touch would certainly make a big difference. High end technologies like drone, food waste trackers, and hackathons are also being used to make things much easier.
Financial Services
There is a lot of scope for the technology to play around in the financial space. Owing to the criticality and accuracy of the work, hands down, technological interference to make the process easier is much required here. Lot of companies are now adapting to various technologies spanning from cloud services, financial software's that can perform complex operations, digital signature to investments tools and you name it. In addition, usage of bitcoins, API's, automated identity system etc. has taken the industry to the next level.
Manufacturing
Manufacturing is on the go. All the areas that operated manually without much technological touch, can now do wonders with the support of technology. This doesn't just save a lot of time but also has a positive effect on the cost of production leading to increased demand. The usage in this field, is a win- win situation to both the manufacturers and the consumers
Construction
What was once thought to be have required great manpower can now be done easily with the technology at minimal efforts and time. You can just play around with the supplies data and estimates. There are tools that gives predictive analysis, direction to work etc.
Life has only become easy with the technological revolution. However, this is not the end. There is much more to be witnessed and many more wonders to experience.
Source :
www.linkedin.com/pulse/know-5-industries-embracing-new-technologies-ajay-ray/