How to Integrate MailChimp with your application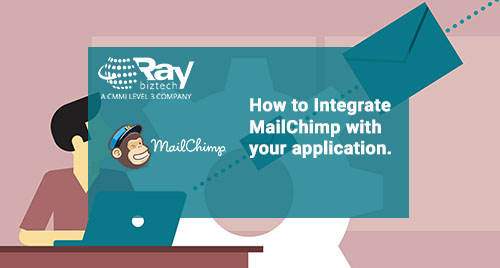 MailChimp, the leading Marketing Automation tool, offers more than 800 custom integration options to numerous web applications, CRMs, CMSs and other platforms. The robust email marketing automation software and reporting tool is helpful in sharing newsletters, announcements, lead generation forms, email campaigns, and relevant marketing vehicles with your growing website visitors. The large-scale tool and its exclusive features invariably attract millions of Fortune 500 companies operating under various industrial segments including e- commerce, R&D, Data Science, and various others for business expansions.
MailChimp Integration Assistance
The featured integration settings come with ease of use for the loggers to first log into Mail Chimp, synchronize account with the requisite app (Formstack or JotForm), fill in the credentials and get escorted to MailChimp dashboard for accessing forms. Post submission of your form, you're entitled to receive an email confirmation from MailChimp.
However, here're the Simple Steps for Initializing MailChimp Integration:
Click "SETTINGS" at the top
Next click "INTEGRATIONS" towards left
Search for "MAILCHIMP" using search box
Click "MAILCHIMP" and launch the Integration Wizard
Re-Checking & Re-Running MailChimp Integration
At times, integration often get faltered due to MailChimp errors in API, login credentials or form fields. Under such situations, you may click "Run Again" in your integration Status for correcting imperfections. Upon improving those errors, you get a "Success" message in green or "Failed" message in red for you to process further.
MailChimp & CRM Integration
CRM solution is one of the easily integrated application with MailChimp to help manage deep customer relationships. The improved integration results in storming appropriate email marketing campaigns, starting effective marketing communication, creating customer awareness, generating qualified leads, prospects, fostering great market demand, and more.
MailChimp & Salesforce Integration
Salesforce application suite helps in managing your sales leads, contacts, connections and many other tie-ins. You can easily get connected to the built-in Salesforce integration for importing voluminous Salesforce contacts to your MailChimp for yielding high profit margins.
MailChimp & Gmail Ecosystem Integration
With MailChimp at your disposal, you can't afford to lose out billions of lucrative email messages from landing into the spam. The impactful integration facilitate email imports from your very own Gmail inbox to the MailChimp list. The Zap connectors can best integrate the web applications for capturing and transferring the arrived, starred, or labeled email contacts from Gmail to MailChimp.
MailChimp & SurveyMonkey Integration
Linking SurveyMonkey to MailChimp helps in moving your value-based surveys and exploratory reports to MailChimp contacts. You can take advantage of reviewing results in your campaign reports, and use segments for trapping the target group of audience.
MailChimp & Drupal Commerce Integration
You can largely increase the relevance of your marketing efforts and also explore as to what your online shoppers are purchasing from your eStore. The goodness of the marketing automation and reporting tools help connect your eShop to MailChimp for catching order information, creating successful campaign activities, automating product catalog visibility, passing order notifications, sending product follow-ups, shooting promotional email notifications, brand recommendations, winning lapsed customers, recapturing lost sales, collecting post purchase feedbacks, growing audience, and selling more stuffs on line for bringing your company's ROI above the line with a single click.