How to deal with Difficult clients on finalizing User Interfaces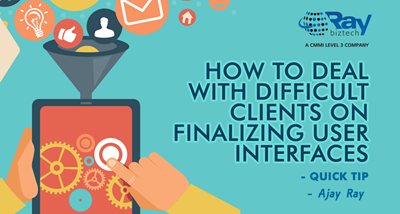 Today, customers and users are at the center of all services & products offerings of a company. Companies want to provide best possible User Experiences in their online applications and systems. According to trusted surveys, 74% users' buying decisions are influenced by intuitive user interfaces and ease of making purchases and enquiries.
This leads to demand for more relevant User Interfaces and User experiences in today's Internet-driven world. The skill of Usable Interfaces of Technology development companies is constantly challenged. But what happens when you are dealing with a tough client?


The tough clients are often not very clear on their requirement and they will ask "everything" in the Interface. Consider the below:
"While I like the User Navigation easy access, can we create categories in Navigation?"
"Make it POP, colorful."
"I want something I can edit myself, but CMS is too hard to use."
"I Love This! But my business decision makers feel that entire color palette needs to change. That's easy, right?"
"I like this simplicity, but can you give this section a bit more flair and dynamism?"
"These elements are kind of boring. I realized we picked them but still can we make it animated."
Alas! Did you think it is over?
The client sends you nearly 10 pages of changes though he said he wants only few changes! And he wants those changes to be done today, EOD? This changes mean that the client is asking for complete change of user interface. Sometime, the client picks the User Interface you hated.
How can you easily deal with tough clients?
Ultimately, you want to make sure that client is educated and happy with your project delivery. You may consider doing these:
Make the client sign a contract that states specific dates and deliverables for her as well as for you
Ask for company user Interface and brand guideline, if they have. This gives you instant heads up on what to use and what to avoid.
Ask the client to send you examples of Interfaces they like and what they don't, detailing exactly what they like or dislike
Create three mockups for them to choose from based on the info gathered.
Make sure that your User Interfaces are in line with Company Guidelines.
Send the client Wireframes before doing a mockup. You can use popular wireframe tools such as Axure RP, Balsamiq Moqups or Power Mockup
Once the client has agreed on a User Interface, make them confirming in an email stating that they agreed to particular User Interface. Be accommodating for smaller changes but ask for CRs if changes are high.
Source :
www.linkedin.com/pulse/how-deal-difficult-clients-finalizing-user-interfaces-ajay-ray/