How is Artificial Intelligence Crucial for ERP?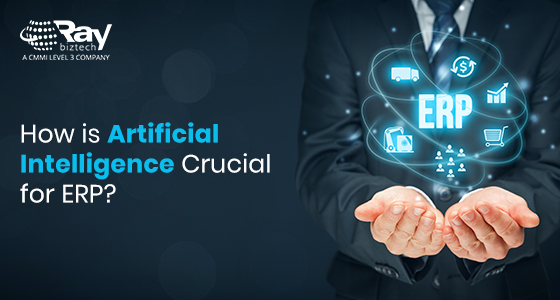 With globally active business dynamics in perspective and the promising prospects coming out of new facets of research in areas of intelligent-based systems, organizations are looking ahead to leverage Artificial Intelligence to augment their enterprise capabilities more than ever before.
The Power of Algorithms
A well-managed AI approach can incorporate effective algorithms that process data, and the precise programming language that works in tandem with the desired algorithms. This will make enterprise software worthy of gauging trends out of hidden patterns and configurations that data itself manifests in, across structured and unstructured formats.
Artificial Intelligence is being integrated into ERP in the form of core capabilities, aimed at automating a host of manual processes, to trigger a large number of gains in terms of productivity and turnaround. This is accomplished with bypassing any technological limitations and size of the enterprise with ease and efficiency using the machine language.
Business Units: The AI Edge
The emerging integration of Artificial Intelligence with ERP is sure to change the IT business automation landscape. AI is now capable of evaluating hundreds of demand forecasting models, and can clearly read across key numbers. This data would then help in decisions pertaining to supply chain management, new product introduction, and demand fluctuation, and thereby skew the results accordingly.
Identifying purchase patterns in specific customer segments can be a challenge. However, AI and Machine Learning can power an ERP to detect crucial factors resulting in poor levels of service, or specific pain points in enterprise planning within specific internal process areas. This will ultimately allow companies to adopt new profitable business models and introduce all-new products into extended segments with a minimal risk of failure.
Costs and Overheads
An intelligent ERP system is capable of breaking down into production data to identify imminent or apparent defects with finished goods. It will lead to a cost-efficient production function and help eliminate overheads and hidden costs associated with defects or malfunctions. An enterprise can have control of the code and go about fixing any rampant bugs with on-premise expertise, thanks to an optimal level of transparency across intelligent technologies extended by most of the vendors.
According to a survey involving a broad sample of firms on their willingness to have a smart workplace strategy powered by AI, around 62 percent of the firms responded in the affirmative. A global research firm disclosed this in their report"Digital Workplace Report: Transforming Your Business" published the previous summer.
Key strategic areas that need to be addressed before implementing an AI-driven ERP:
Augmentation vs Automation: It is crucial to decide the areas or functions to automate, and those to augment with key staff. The final say rests with responsible thought leaders
Moving to the Cloud: Subscription-based cloud services for specific business functions are hitting the market, while enterprises must also evaluate their own readiness comparable with set benchmarks before zeroing on a feasible option
Permeable AI Capabilities: Enterprises must determine if the power of AI traverses the core IT function to extend to an enterprise-level behavior across business units
Diligent Execution: A stringent approach to project management and change management across functional and people-driven units of the organization will be a precursor to a positive AI experience
Measure and Manage: Enterprises can ideally empower top finance executives or CFOs to measure costs and leverage budgets accordingly with an eye to optimize investments towards an AI-enabled enterprise system
About Raybiztech
Raybiztech is a leading Global IT Services and Solutions Company, ISO 27001:2013 Certified Company. We are a Member of NASSCOM, HYSEA, NJTC, and AIIA. Raybiztech offers comprehensive end-to-end IT Services for Business Application Development, Enterprise Solutions and Quality Assurance Services. Cloud Computing and IT Infrastructure Management to organizations in the Banking & Finance, Insurance, Healthcare, Manufacturing, Retail, Media & Entertainment, Leisure & Travel, Telecom and Energy & Utilities verticals as well as Independent Software Vendors.