How GDPR Guidelines Regulate Marketing Automation and Customer Engagement?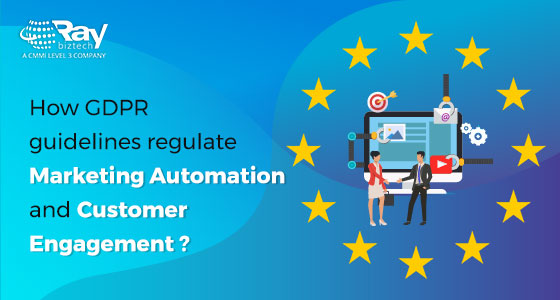 Marketing automation offers some of the most innovative ways of tracking and pursuing leads. It collates between different profile segments and the sources of lead generation campaigns such as newsletters, email subscribers, and site visitors. The marketing function needs to deal with disorganized data across these domains, thereby securing information pertaining to credentials of prospects and customers alike.
General Data Protection Regulation (GDPR) guidelines implemented in 2018 call for a framework to utilize and protect customer data as well as adopt a secure mechanism of collecting and storing confidential information. These interfaces and applications that collect data are critically regulated within the aforesaid GDPR framework. The basic step towards compliance towards this set of regulations emanates from building and sustaining a solid data foundation.
The framework seeks to apply certain rules on retrieval and storage of data from the customers:
Emphasis on strict segregation of nice-to-know and need-to-know information
Lesser amount of customer data collection than what was done conventionally
Opt-out from the maximum number of communication channels or interaction
Provision to collect and store information tied directly with true business goals
Access to information bank at departmental level for organization-wide security
Allowing customers to manage e-mail preferences and social media notifications
Well-integrated databases for consistent search queries that drive secure analytics
Consumer consent remains partial and does not mean access to all personal data
Network automation and infrastructure to regulate data protection under GDPR
The GDPR guidelines require organizations to initiate with the right kind of tools and infrastructure in place, in addition to communicating and orienting the workforce about the same. According to a survey, about three of four firms are not able to take in GDPR into their operational framework. However, one in four organizations said they are in the initial stages of a GDPR setup when it comes to protecting data of consumers; as well as the sharing or retrieval of confidential information. Marketers are required to implement data-sharing options so they can essentially control the amount of data shared to their own discretion.
Three crucial elements of compliance with GDPR guidelines involve:
1. Permission Levels for Prospect Information
Develop a user interface that would solicit the consent of the prospects to collect information and preferences towards product options. The eventual customers can choose to reveal just their name, or choose to disclose other details as well, on their own discretion – and always come back to review or rollback their options with the relevant settings. Appropriate forms or check-box controls with guiding instructions can allow the user to make these decisions with ease. Keeping track of the collected information would be an uphill task, so cutting-edge marketing automation tools need to be in place. Based on customer op-outs or withdrawals, the system must clean up information that is no longer required for business purpose.
2. Stick to data-collection under GDPR purview
Not all of the customer information is vital for a business purpose – some of it may be just 'nice to know'. The GDPR guidelines stipulate that prospects or buyers would have to be comfortable with sharing confidential information such as the salary drawn, or the number of kids. For example, an insurance player might want to collect information about the income class, to be able to recommend the right policies or be able to measure trustworthiness. GDPR makes business furnish the reason behind the collection of specific data, and its effectiveness in the business scenario. Further, guidelines also take into consideration the fact that certain automated features would require upgrades or enhancements to comply with underlined GDPR norms pertaining to data security as well as integrity.
3. Marketing Mailer Content and Preferences
Take the example of a customer subscribed to a newsletter. The person would be casually interested in going through the sections of the newsletter but might not be interested in product feature updates or announcements. He might be given the option to select the right combination of preferences in order to receive the newsletter in the inbox, but not be actually bothered about new announcements or upgrades. The marketing communication, by doing this, keeps the level of communication and engagement to the optimum level, without having to stop all forms of communication with the subscriber. Firms thus use GDPR in their own ways to convert future prospects into sales down the line.
As organizations look ahead to give customers more control over what information they would prefer to share and are comfortable to disclose, the GDPR norms would come handy in sustaining an optimum level of customer discretion.
About Raybiztech
Raybiztech is a leading global Information Technology (IT) Services and Solutions, a CMMI Level 3, ISO 27001:2013 Certified Company. We are a Member of NASSCOM, HYSEA, NJTC, and AIIA. Raybiztech offers comprehensive end-to-end IT Services for Business Application Development, Enterprise Solutions, Enterprise Collaboration Services, Testing and Quality Assurance Services, Cloud Computing and IT Infrastructure Management to organizations in the Banking & Finance, Insurance, Healthcare, Manufacturing, Retail, Media & Entertainment, Leisure & Travel, Telecom and Energy & Utilities verticals as well as Independent Software Vendors.