Factors to consider for Enterprises before picking Custom or Pre-Built CMS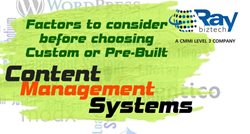 World over, companies have realized the importance of good content and knowledge management. The right Content and Knowledge management system plays a significant role in a company success or failure. A content management system is the most vital part while creating a website, Portal, Intranet, Document or Knowledge Management Systems. In such a situation, it can be really confusing to choose the content management system to leverage. There are a number of factors to consider to choose pre-built CMS or a customized version.
Both the CMS have benefits, so we just can't simply decide, which one of the two is better. What is more important over here is that which one of the two is more suitable for your website. You have to consider many factors before choosing a particular software. Both these options have certain advantages and disadvantages. This blog post will determine various factors to ascertain the usability of both the CMSs.
Limitations
Pre-built CMS is very customizable, as it can be easily edited and changed by a non-technical user easily and quickly on the other hand the non-technical users cannot moderate their website with a custom CMS. So, if you are ready to work with developers a custom CMS is a right choice for you whereas if you want to edit it yourself a pre-built CMS is the right option.
Flexibility
The flexibility of pre-built CMS and custom CMS can be compared to wooden sticks and plastic. Pre-built CMS is just like a wooden stick, if we flex them more they can break on the other hand a custom CMS is just like a plastic bag, you can flex it as much as you desire, but still they will never break.
Budget
The key factor to decide between the two CMS is budget. The average cost of a pre-built CMS varies from $50 to $1000 on the other hand the price of a Custom CMS is 4-5 times more than pre-built CMS. Before choosing a CMS based on price, define your priorities and scopes. Give your website the first priority and then consider the long-term requirements of your business. Once you have estimated the workflow, make up your choice.
Bottom Line
All that you can see, when it comes to choosing between pre-built CMS and Custom CMS, there is no one that fits your requirements all the way out. It all depends on what you particularly require and not to forget your budget. If you have a small project or launching a new one, make sure that you choose a pre-built CMS. On the other hand to give your site the exact touch you require, choose a custom CMS.
About the author:
Mr. Ajay Ray with over 22 years of technology experience, has worked extensively on Technology and Business Solutions, Business Development, Accounts Management, and managing offshore delivery centers for leading IT multinationals. Reach out to him on
[email protected]
for any feedback.
Source:
https://www.linkedin.com/pulse/factors-consider-enterprises-before-picking-custom-pre-built-ajay-ray?published=t