eCommerce Trends that will influence your Retail Strategy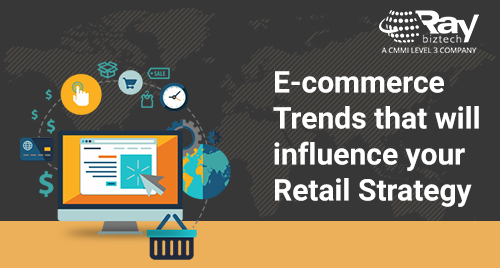 The eCommerce industry is growing immensely with a 23% YOY, expected to reach $4 trillion industry by 2020. With numerous customer centric apps, sites nothing can stop the growth of this industry. Although the customer choices are ever changing along with technology changes, the ecommerce industry is evolving every day. Social media pages, messenger ads, video marketing, augmented reality; voice assistant purchases are the trends ruling the industry.
Artificial Intelligence & Machine Learning
It is the era where a customer sitting at home expects to get products that exactly match their expectations without any slight difference and to be delivered on time as well. AI (Artificial Intelligence) & ML (machine learning) have been linked with ecommerce industry to offer the best customer experience in any corner of the world. Both these tools will help enhance customer experiences as will help do design personalized campaigns which includes behavior based analysis that would fuel data-driven optimization for different categories of customer.
Shopping with Voice Search
With the newly launched voice service products like Amazon Echo and Google Home, voice based shopping is on a rise. The voice assist products offer brands an easy way to streamline customer experiences in a completely new way. The biggest challenge would be to provide voice based product descriptions to the customer. Although the technology is still in developmental stage soon all our devices shall offer us, a great voice based shopping experiences.
Augmented Reality
Every individual would love to visualize any product before the make a decision to purchase it. Augmented Reality (AR) makes it possible for you to view your products before buying it. From buying a small product to large appliances or furniture, AR will make everything possible in real-time. Customers can easily view the product and evaluates its benefits. They can just check how a particular product looks on themselves, or in their home or office. The technology comes with two challenges, firstly retailers need to thoroughly understand the AR technology and know how it works, and secondly, retailers should be able to offer visualizing of the products before the customers plans to buy it.
Subscriptions would be an integral part
It would be exciting to see several subscription-based models trending in their key offerings. With a specific inclination towards offering more personalized service to create a larger loyal customers base in ecommerce, we shall witness, many medium online stores incorporating subscription models into their traditional setups and models.
Picture/Photo Shopping
Customer convenience is the key to make the customer happy and create great customer experiences. Reducing customer effort means more customer engagement. Photo search is one such feature and is likely to gain massive fame among customers. This may anticipate the trend of voice searches across ecommerce channels. Photo-based searches are already in position, with Amazon & BigBasket already using them.
All time ruler - Content
Content-Rich marketing strategies are already being used by majority companies across the globe as interesting content is the key to attract customers and keep them engaged. Companies investing more in how-to-do videos, blogs, social media posts will generate more ROI comparatively.

With customers and retailers ever evolving, there is no doubt that there would be huge influx of online stores whose focus would be on creating experiences similar to what customers have imagined.
About Raybiztech
Raybiztech is a leading Global Information Technology (IT) Services and Solutions, a CMMI Level 3, ISO 27001:2013 Certified Company. We are a Member of NASSCOM, HYSEA, NJTC, and AIIA. Raybiztech offers comprehensive end-to-end IT Services for Business Application Development, Enterprise Solutions, Enterprise Collaboration Services, Testing and Quality Assurance Services, Cloud Computing and IT Infrastructure Management to organizations in the Banking & Finance, Insurance, Healthcare, Manufacturing, Retail, Media & Entertainment, Leisure & Travel, Telecom and Energy & Utilities verticals as well as Independent Software Vendors.