Build your business with Online-to-Offline (O2O) Commerce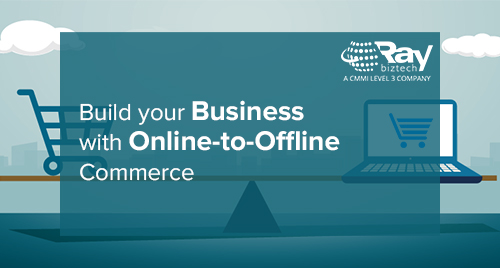 Online-to-offline (O2O) commerce is a business strategy that attracts potential customers from online channels to make purchases offline in physical stores. Online-to-offline commerce, or O2O, discovers customers in the online space, through emails and online advertising, and then uses a variety of tools and techniques to persuade the customers to leave the online space and shop offline. This kind of strategy incorporates methods used in online marketing with those used in brick-and-mortar or offline marketing.

Marketers of huge companies or big brands have moved ahead of digital marketing techniques and are intensifying marketing's role to create new digital business models. The objective of online-to-offline (O2O) commerce is to create online awareness about the products and services, letting potential customers to research different offers and then visit the local brick-and-mortar/physical store to make a final purchase.

Various methods used by O2O commerce companies include in-store pick-up of items that were purchased earlier through online site, allowing items purchased online to be returned at a physical store, and letting customers to place orders online while they are at a physical store. The rise of online-to-offline (O2O) commerce has not abolished the advantages that e-commerce companies enjoy. Companies with physical stores still have customers visiting regularly and buying from them, as they love to see how an item fits or looks, or to compare prices of similar products, only to eventually make the purchase online.

Things that drive O2O commerce:
Start collecting customer data as much as you can in the form of name, email, contact details etc. this would help you to design discounts, offers, freebies that can be sent through emails, sms or on paper.
Creating pages on Facebook, posting regularly on Twitter & Instagram is an effective way to reach out to your potential customers. Marketers can reach customers quickly through social media campaigns.
Opportunity to customers to choose their product delivery - To encourage online shoppers to shop offline, retailers offer them various benefits like in-store pickup of the products, in-store cash payment, trying & testing, and apparel fittings, free home shipping, web-returned center, product pick-up location or hub for online sale in their actual retail stores. This strategy may vary depending on the product lines the retailers are selling.
Advertising on omnichannel platforms can promote the products and encourage a buyer to buy one in a physical store. Branding proves to be more efficient in product marketing.
Registering on Google Maps - Majority of us start our day with looking for local stuffs on Google search and may end up visiting an offline store. To start reaching your customers faster, register your store on Google places and maps. Fill in all the necessary details; optimize your listing with appropriate descriptions & keywords. Encourage your customer to give rating & feedbacks on the list to stand out among competitors.
Strategic Partnerships help you to reach maximum audiences. As by collaborating, you can offer value added services to the customers. Thus, you can divide promotional activities and do effective marketing.
IoT helps retailers to provide virtual shopping experiences. You can promote offers & discounts on specific products for customers depending on their online searches and choices. This way you can be closer to customer interests and reach them quickly. For instance, you can say that - a cotton trouser they checked a week ago is now available at the store on discounted rates. They can have a free trail of the trouser before buying it. Thus, IoT will help marketers to create personalized customer experiences.
Digital wallets can be a great way to keep your offline store going. This way customer will have freedom to pay the amount online, and they need not carry cash as and when they visit your store.
Loyalty programs and rewards are the best promoting methods. Loyalty reward programs can include discounts to customers when they sign up for online newsletters, or tag friends in social media, share the social pages etc. Online surveys can also prove to be successful, as they would help you to gather customer data.
Digitization has enabled both businesses and consumers to create enhanced purchasing/shopping value. There are abundant opportunities for retailers to combine online and offline commerce into a complimentary shopping experience that keeps customers satisfied and increases revenues.
About Raybiztech
Raybiztech is a leading global Information Technology (IT) Services and Solutions, a CMMI Level 3, ISO 27001:2013 Certified Company. We are a Member of NASSCOM, HYSEA, NJTC, and AIIA. Raybiztech offers comprehensive end-to-end IT Services for Business Application Development, Enterprise Solutions, Enterprise Collaboration Services, Testing and Quality Assurance Services, Cloud Computing and IT Infrastructure Management to organizations in the Banking & Finance, Insurance, Healthcare, Manufacturing, Retail, Media & Entertainment, Leisure & Travel, Telecom and Energy & Utilities verticals as well as Independent Software Vendors.