Best ways to overcome eCommerce Challenges!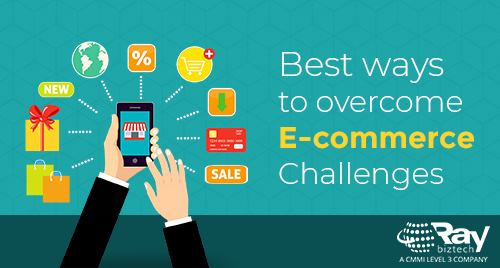 Over a million consumers shop online every day making ecommerce a rapidly growing industry on a global scale. Setting up an online store isn't easy in a market where people rely on personal experiences more than look and feel of the website. With days to come, consumers will only shop with a finger click.

Ecommerce is shaping the entire retail industry with consumers shopping everything online; researchers estimate the ecommerce market to grow more than $1 trillion soon. However, with the increase in the usage of smartphones, cart abandonment has also increased. This has resulted in huge losses incurred by retailers. Although it seems that ecommerce industry is flourishing daily, there are several challenges that affect it and retailers struggle to address them. How can retailers overcome these ecommerce challenges?
Choosing a Flexible Technology
It is always difficult to let go legacy based systems and move to a more updated/ new technology. However, today retailers need to adapt themselves to new CMS like Sitecore, Kentico etc that would help you to organize entire content in a precise manner on a single platform and allow you to create best customer experiences. These technologies have proved to offer ROI for ecommerce stores. You need to determine the best tool or platform that is a good fit for your requirements. You need to first analyze your business requirements to ensure that the technology you invest in will be agile, reliable, scalable, and robust. Flexible technology will help you answer to all kinds of market trends faster than your competitors.
Support Global sales
Targeting global audiences, creating campaigns accordingly will help you create a better global presence. When working on your sales plan, you can look into the growing economies that are dominating the ecommerce market. With IoT, Machine learning, AI we are being connected to the consumer more quickly and in numerous ways. These new technologies can offer large expansion opportunities to places across the globe.
Being Mobile-friendly first
Before building a desktop website, you should build mobile site, as consumers are no longer searching for your products sitting in front of the desktops. They can view your site from anywhere and anytime. Retailers need to understand the importance of using a mobile-first design approach as it provides a better cross-platform customer experience. These cross-platform tools capture the imagination of the audience through a mobile-friendly user interface and display content accordingly making the sites more personalized. It ensures that the store is always fast and responsive. It makes your store feel trustworthy.
Creating a seamless brand experience
To make your customer loyal, you need to share a consistent message across multiple channels and offer a seamless experience to them. You need to integrate all your resources to offer the best solutions to the customer. You need to keep on upgrading your site as and when necessary. This will keep the customers engaged in your site and they shall be more loyal. You need not compromise on brand quality, all the devices, be it mobile, tablets, desktops everywhere you brand should be displayed in a single manner. Inconsistency increases distrust.
Integrating Analytics
When a customer explores your site, he leaves some data behind. Likewise, consumers search through several sites and hug amount of data is left untreated. This data can actually prove to be very helpful in understanding customer interests and choices. Later, the same data can be used to design discounts, offers, and campaigns for individual customers according to their choices. Companies can design email-marketing campaigns based on this data that will inturn help you to target right customers and drop the unnecessary ones. Advanced analytics can offer the actionable insights that can result in better sale strategies. On the other hand, this requires investment in money and time. You can start with free tools like Google Analytics and work towards more advanced platforms slowly. Investing in the best practices and tools can help you to answer future ecommerce challenges but to be more effective, analytics need to be performed daily.
Getting in touch with Social commerce
Social media opens up immense opportunities to keep your customers engaged and loyal. It acts as an open platform between you and your potential buyers. Nowadays, it is possible to use Facebook, Twitter, and Pinterest to target your audience easily. You can use these social media platforms to run advertising campaigns and increase the reach of your brand. These platforms offer fine filtration of your audience, which can result in more targeted campaigns. To achieve the best results, you need to understand the social medium and customize your campaign according to the platform expectations.
Ecommerce Security
With increasing credit card frauds, cyber crimes, data hacks, and personal information at stake, developing a secured ecommerce website is necessary. While designing your ecommerce site, use a secured platform in the design phase itself, implementing SSL connections, and creating robust data storage will minimize data threats. Once the site is live, you can keep it secured by updating your software packages, monitoring network behaviors, and necessitating strong passwords from your users. Security breaches and data hacks can harm your brand identity and you may lose majority of the customers, hence, taking preventive security measures is must.

Everyday ecommerce market is getting complex, you need to keep yourself updated with the technology as well as customer to make your site more customer centric, secured, and competitive. This will help you to be prepared for future challenges.
About Raybiztech
Raybiztech is a leading Global Information Technology (IT) Services and Solutions, a CMMI Level 3, ISO 27001:2013 Certified Company. We are a Member of NASSCOM, HYSEA, NJTC, and AIIA. Raybiztech offers comprehensive end-to-end IT Services for Business Application Development, Enterprise Solutions, Enterprise Collaboration Services, Testing and Quality Assurance Services, Cloud Computing and IT Infrastructure Management to organizations in the Banking & Finance, Insurance, Healthcare, Manufacturing, Retail, Media & Entertainment, Leisure & Travel, Telecom and Energy & Utilities verticals as well as Independent Software Vendors.