How will AI and Robotic Process Automation Transform Finance & Accounting?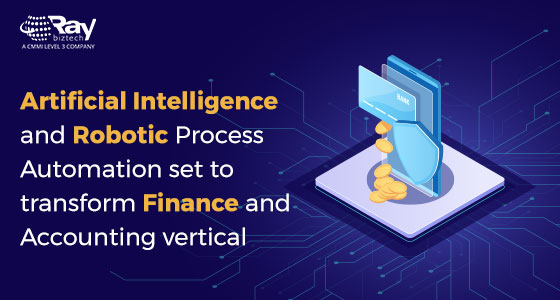 Microsoft will power its Dynamics platform with Artificial Intelligence to help finance managers automate tasks and streamline processes. All aspects of finance can now be automated such as digital invoicing, fixed-asset accounting, customer risk evaluation, auditing expense reports, and most importantly, financial data analysis.
Embracing AI and Robotic Process Automation
According to the Deloitte survey of Global Outsourcing, about 53% of companies reportedly outsourced taxing functions, while 42% of them outsourced other financing or budgeting tasks. At the same time, the KPMG survey revealed 88% companies felt robotic process automation (RPA) showed an upward trend in supporting the finance function by 2018, while 66% of the enterprises responded by saying companies would embrace RPA by 2020.
The above trends do not eliminate the need for human resources or executives specialized in finance. Workers will now spend lesser time on manual tasks and could well focus on generating powerful and value-added actionable insights powered by more accurate reporting tools. The Robotic Process Automation (RPA) would not replace humans as such; it will rather be augmented by a much more knowledgeable workforce that is consistent with contemporary technology and capabilities.
Role of CFOs
The automation of finance operations benefits CFOs by enabling them to help operate other units efficiently by playing a larger role in data storage and management, as well as compliance with norms. Leveraging new technology such as RPA will allow the elimination of 40% of manual accounting, while reducing operating costs as much as 80% by the virtue of digital assistants.
About 23% of CFOs said their main priority has been to improving analytical capabilities to transform forecasting, risk management, and understanding of value drivers. The CFOs will also play a greater role in molding subordinates to perform in a data-driven environment, which relies on consistent forecasting; and real-time budgeting as well as financial planning models.
Compliance
With newer regulations that compel firms to mitigate inappropriate transfers or investment disclosures, the automated systems will play a crucial role in helping business entities to identify policy abuse and earmark plans for corrective action. In terms of compliance, firms said they opted for outsourcing – about 56% attributed it to lack of skilled resources, while 38% were wary of rising costs.
Once firms embrace digital transformation across the gamut of finance functions, RPA will help detect and protect against high financial risk exposure and discrepancies in tax reporting. This will also help check inappropriate expenditures and flag trade transactions for deeper cross-check and review.

Robotic Process Automation (RPA) and Artificial Intelligence (AI) are set to steer finance and accounting functions by 2020!
About Raybiztech
Raybiztech is a leading global Information Technology (IT) Services and Solutions, a CMMI Level 3, ISO 27001:2013 Certified Company. We are a Member of NASSCOM, HYSEA, NJTC, and AIIA. Raybiztech offers comprehensive end-to-end IT Services for Business Application Development, Enterprise Solutions, Enterprise Collaboration Services, Testing and Quality Assurance Services, Cloud Computing and IT Infrastructure Management to organizations in the Banking & Finance, Insurance, Healthcare, Manufacturing, Retail, Media & Entertainment, Leisure & Travel, Telecom and Energy & Utilities verticals as well as Independent Software Vendors.