At Raybiztech, we understand that most organizations are too busy to keep up with all of the latest IT trends and innovations. An efficient IT solutions strategy enables organizations win competition and foster innovation. Raybiztech's comprehensive range of IT services are designed to meet the needs of businesses of every size to compete and succeed in the global market.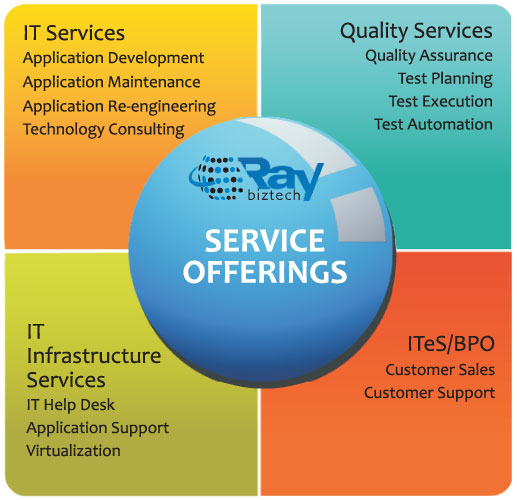 Our IT Services provide global organizations competitive edge by leveraging the right mix of technology, people, and processes. Our team of Experienced Technical and Domain professionals ensures that your IT initiatives are tied to business imperatives through quantifiable metrics.
Raybiztech takes charge of the IT needs of the entire enterprise. The gamut of our IT Services extends from Application Development and Maintenance, Application Re-engineering to Technology Consulting. We continue to serve clients from a range of industries including Healthcare, Energy and Utilities, Finance, Telecom, Insurance, Banking, and Media and Entertainment among others.
Please read more on our top practice areas below, or contact a Raybiztech expert today to discuss a custom solution for your enterprise.
Client Challenges
Align IT with strategic business initiatives
Built-in flexibility to adapt to a constantly changing global market
The ability to strategize, develop and execute new initiatives with optimal speed to remain competitive
Raybiztech IT Services
Business Value
IT enabled achievement of strategic objectives
Faster time to market
Cost and energy optimization
Increased productivity