QuickEdmin Educational ERP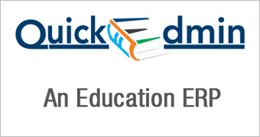 QuickEdmin is a leading ERP Ed-Tech Software, specifically designed to cater the needs of all Educational Institute. It facilitates Educational Institutions to adapt the best industry practices and streamline their processes. QuickEdmin is highly flexible, user-friendly and runs on Cloud.
QuickEdmin ERP System provides user-friendly dashboards for teachers, staff, students, parents and management personnel. The various modules available in QuickEdmin facilitate all the processes of your institution, from admission of new students, learning, timetable, library to generating transfer certificates. QuickEdmin ERP offers solutions to manage Timetable, Attendance, Examinations, Gradebooks, Campus News, Hostel, Library, Transportation, School Calendar, Events and many more. It has a fully-fledged Human Resource module to manage the payroll and employee pay slips. This also seamlessly integrates with all third party systems.
The Utility is scalable and flexible enough for any customization. Each feature is integrated according to the functional flow.
Visit QuickEdmin Website: http://quickedmin.com
QuickEdmin Education ERP Features:
Pre-Admission Management
Admission Management
Student Management
Academic Management
Examination Management
Library Management
Time Table Management
Student Attendance
Transport Management
Hostel Management
Mess Management
Inventory Management
Accounts Management
Revenue/Fee Management
Payroll Management
Staff Management
Visit QuickEdmin Website: http://quickedmin.com