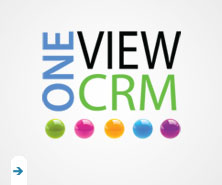 Raybiztech's OneView CRM is an On-Demand/Hosted CRM solution that can enable you to automate the sales and marketing processes such as marketing automation, sales force automation, service automation and contact management. OneView CRM offers comprehensive campaign management and lead management solutions that can enhance the productive of the sales and marketing teams while bringing them all to the same platform.
OneView CRM enables businesses to acquire, retain, and develop profitable customer relationships by increasing sales and marketing performance and maximizing customer satisfaction and loyalty. Our CRM is perfect for small to medium-sized businesses and divisions of larger enterprises.
OneView CRM Features:
Enhanced productivity of sales and marketing teams
Ability to implement custom processes
Manage all campaigns from one place in collaborative manner
Track the complete lifecycle of a lead
Handle customer information efficiently and effectively
You can Contact Us or Request for a Quote .