Microsoft Dynamics CRM web application and mobile device software requirements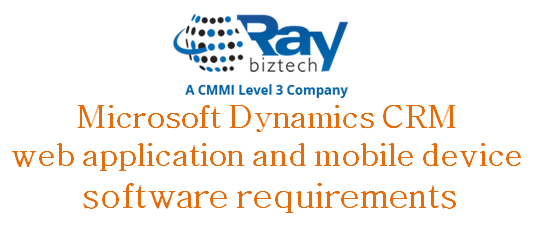 This section lists the operating system and software requirements for the Microsoft Dynamics CRM web application when running on Microsoft Dynamics CRM 2011 and Microsoft Dynamics CRM Online
In This Topic
Supported operating systems when you use Internet Explorer
The following operating systems are supported for the Microsoft Dynamics CRM web application:
Windows 7 (all versions)
Windows Vista (all versions)
Microsoft Windows XP Professional SP3
Microsoft Windows XP Tablet SP3
Windows XP Professional x64 Edition
Supported versions of Internet Explorer
The Microsoft Dynamics CRM web application can run in any of the following Internet Explorer versions:
Internet Explorer 7
Internet Explorer 8
Internet Explorer 9
Internet Explorer 10 (when available)
Supported versions of Microsoft Office
To use Microsoft Dynamics CRM with Microsoft Office integration features, such as Export to Excel and Mail Merge, you must have one of the following Microsoft Office versions on the computer that is running the Microsoft Dynamics CRM web application:
Microsoft Office 2003 SP3
2007 Microsoft Office system SP2
Microsoft Office 2010 or Microsoft Office 2010 SP1.
Microsoft Dynamics CRM mobile device support
There are several options available to access Microsoft Dynamics CRM data from different devices such as mobile phones.
Microsoft Dynamics CRM Mobile Express
In most cases, non-Internet Explorer web browsers use Mobile Express for Microsoft Dynamics CRM mode, which offers reduced access to Microsoft Dynamics CRM typically used for mobile devices.
Mobile Express comes installed with Microsoft Dynamics CRM Server 2011 and is available with Microsoft Dynamics CRM Online. Mobile Express offers great device flexibility because it runs on any web browser that supports common standards, which are HTML 4.0 or a later version, and JavaScript.
Users who want a lightweight experience when accessing CRM data, even with a supported web browser, can run Mobile Express mode by appending /m to the URL, for example, https://company.crm.dynamics.com/m or https://crmweb/organization/m.
For more information about Mobile Express, see Getting Started with CRM mobility.
Microsoft Dynamics CRM app for Windows Phone 7
Dynamics CRM app is a Windows Phone 7.5 application which brings Activity Feeds to your mobile device. For more information, see Dynamics CRM.