Microsoft Dynamics CRM 2016 is now available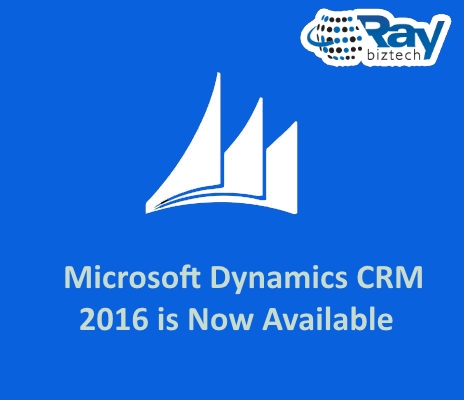 Microsoft announced the release of latest version of its customer relationship management software Dynamics CRM 2016 that is available both as a on-premises software and Cloud service and Microsoft Dynamics is in 44 languages and in 130 markets. To engage customers across all channels and to empower employees to deliver the optimal experiences to customers Dynamics CRM 2016 is focused. One of the focus is to offer intelligence and productivity into a single experience. They are brining machine learning capabilities of the Cortana Analytics and advanced analytics suite to preview their first adaptive, intelligent processes for sales, customer service and Social.
Microsoft Dynamics CRM software application is a part of Microsoft Business Solutions that can be used with the other Solutions related to Microsoft, such as Office 365, Yammer, SharePoint, Outlook and Azure. The focus industries of Microsoft Dynamics are service, manufacturing, retail, financial services and public sector.
Let us discuss how Microsoft is also delivering enhancements that are significant in mobility, productivity and customer service.
Mobility - Microsoft CRM 2016 includes the ability to create task-based mobile apps and features which are full offline mobile capabilities for tablets and phones. Mobile Application Management with next generation Cortana Integration and Microsoft Intune that surfaces Customer relation management data for deals, accounts, Key sales activities and mobile marketing with SMS capabilities available with Dynamics Marketing in four countries.
Productivity - In Dynamics CRM 2016, Microsoft has enhanced the Customer relation Management App for Outlook, simplified the creation of personalized sales documents in Word, delivered templates for immersive Excel Experience and enabled seamless access to contextual Customer Relationship Management across SharePoint, OneDrive and Office 365 Groups for Business.
Unified Service - Dynamics CRM upgrade 2016 includes a unified and single solution for Customer Service across self-service, field service and agent assisted service. With native knowledge management, surveys to capture voice of the customer and field service capabilities,Microsoft's recent acquisition of Fieldone and Interactive Service Hub,Microsoft now have a new role driven agent experience.
About Raybiztech: Ray Business Technologies is a CMMI Level-3, ISO 27001:2013 Certified Company. Raybiztech has years of experience in providing CRM Solutions on diversified technology platforms including but not limited to Microsoft Dynamics CRM, Salesforce, vTiger, Siebel and PeopleSoft CRM. Raybiztech helps you engage your clients and leads in the most efficient and cost effective way and to get ahead in the competition. Our experienced sales & marketing teams helps to improve your lead generation with campaign management by designing better campaigns and by implementing multi-channel lead management solutions.
Undoubtedly, providing outstanding and innovative customer service is more challenging and critical than ever. We deliver secure, effective and integrated CRM solutions for the market leaders globally. Raybiztech's CRM services not only provides innovative CRM services but also helps you to acquire new customers. Raybiztech CRM expertise team and its Value Proposition can assist you with Business Process Assessment, Software Selection, Strategy Definition and best practices, Data cleansing, Data migration, and integration services, Requirements Definition, Data cleansing, Data migration and integration services, Upgrades and Enhancements, Post-implementation Services, Turnkey Implementation Services, Off-site/offshore Development Services.