Top 5 Reasons to Migrate from Microsoft Dynamics GP to Dynamics 365 Business Central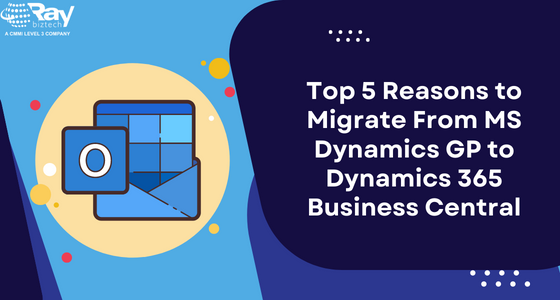 Many people know Microsoft from the Windows operating system, Office suite, Visual Studio, and more. But did you know that Microsoft Dynamics GP is their largest business solution? Dynamics 365 Business Central (formerly called Navision) is a complete ERP solution for small and mid-sized businesses that include customer relationship management, enterprise resource planning, supply chain management, project management, and more. Check out these top reasons to migrate from Microsoft Dynamics GP to Dynamics 365 Business Central!
For instance, you may simply manage every aspect of your company's financial performance with the help of an enterprise resource planning (ERP) solution like Microsoft Dynamics GP. In addition to automating routine processes like sending invoices and paying bills, these include handling payroll, following sales orders, maintaining inventories, and managing sales orders. Surprise, surprise! That is only the very tip of the iceberg. Additional features and functionalities that help in streamlining processes and simplifying business management are unlocked by Dynamics 365 Business Central.
There's never been a better moment to think about migrating to Dynamics 365 Business Central if you're seeking more than the fundamentals. Here are the top 5 reasons why:
By 2028, Microsoft will no longer support Dynamics GP by January 11, 2028, Microsoft said it would stop supporting all versions of Dynamics Great Plains. This indicates that Dynamics GP updates will end for any version released after 2012. To take advantage of these most recent upgrades, if you still using this software, now would be the ideal moment to upgrade to Dynamics 365 Business Central.
The latest ones have entirely new features
Incredible new features have been added to Dynamics 365 Business Central. In addition, you can import and export data from other sources in addition to being able to sync data between other platforms. This covers importing data from various sources, such as Salesforce, Google Sheets, Excel, QuickBooks Online, and more. Additionally, it allows data to be exported to other destinations, including Salesforce, QuickBooks, Xero, Google Drive, Dropbox, Box, and OneDrive.
Improving Data Security
One of the most crucial factors when deciding which ERP system to use is the security of your data. Because they wanted to maintain their data, businesses frequently choose Microsoft Dynamics GP over competing products. But did you know that in addition to the security precautions offered by Dynamics GP, Dynamics 365 Business Central also offer many other security measures?
Benefits that reduce the costs
The cost of support will increase because, if any, Microsoft Partners will continue to support Microsoft GP after it is discontinued. So, if you're currently using Microsoft Dynamics GP, switching to Dynamics 365 Business Central might be worthwhile. By doing so, you'll benefit from the cost reductions brought about by using a single vendor to cover all of your needs.
Integrate seamlessly with the Microsoft 365 Platform
If you already have an Office 365 subscription, you've probably noticed how seamlessly everything works together with Microsoft's platform. Well, Dynamics 365 Business Central does just that. You can access hundreds of tools and services that help you work more efficiently by effortlessly connecting with Office 365.
RBT is Your Go-To Technical Advisor for Microsoft Solutions!
It is crucial to partner with a professional technical advisor like RBT to help you navigate the GP to BC transfer process. We understand that moving to a new enterprise resource planning (ERP) system is a serious decision. And we're here to make sure you choose wisely for your company.
Benefits with RBT:
Complete directions are given at every stage of the process
A comprehensive understanding of the state of your business today and its future objectives
An objective evaluation of your existing circumstances
Assistance in choosing the appropriate software for your specific needs
When you work with RBT, you have access to our team of experts who will help you at every stage. In addition to assisting you with implementation and providing continuing support as needed, our experts will help you choose the best product for your unique requirements. Ray Business Technologies is aware that selecting a new ERP system might be challenging. However, don't worry; we're here to assist. To know more about how we can help you to move with confidence, get in touch with us right away.