Microsoft Dynamics 365 Spring 2018 Updates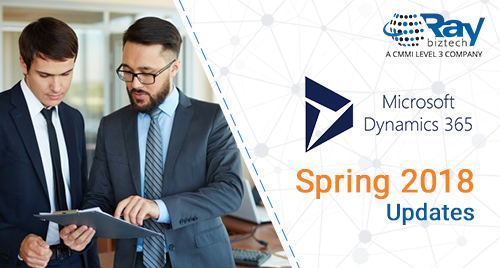 Microsoft recently released Spring 2018 Microsoft Business Applications portfolio, which consist of Dynamics 365, Power BI, PowerApps, and the Common Data Service for Analytics.

The new business applications suite includes Microsoft Dynamics 365 for Marketing, a latest marketing automation application for organizations that require additional tools compared to basic email marketing. The tool helps to create appealing customer emails, landing pages, web forms, and handle in-person and online events.

Microsoft along with a marketing automation tool also launched Microsoft Dynamics 365 for Sales Professionals, an updated version of its present sales application, with focus on Salesforce automation capabilities to automate sales processes and enhance productivity. It includes opportunity management, sales planning, and performance management.
The new Dynamics 365 also includes Artificial Intelligence (AI).
A Relationship Assistant assists sales representatives with alerts and reminders to keep them updated with their work in Dynamics 365. This allows them to keep a track on the emails they need to reply, attend meetings, and send new emails. It includes auto capture with Outlook that helps to analyze emails to find messages appropriate to specific accounts and then track the same in Dynamics 365 for Sales with just one click. It also includes email engagement feature to help sales people to classify and prioritize the most receptive email contacts.

With the above new tools, Microsoft also launched Power BI Insights apps, that will help deliver insights customized to specific business situation across marketing, service, sales, finance, operations, and human resources. These Insights will be generated by applying advanced intelligence to Microsoft data or data from third-party sources. Power BI Insights apps can be personalized in Power BI and further modified by applying Azure data services. Power BI for Sales Insights and Power BI for Service Insights, both new tools are being introduced with this Spring 2018 Dynamics 365 updates. Power BI for Sales Insights will comprise an embedded experience for Dynamics 365 for Sales, which enables users to take benefit of relationship analytics, providing them a single relationship health score based on transactions, customer sentiment, email and content exchanged, and frequency and level of customer interactions brought simultaneously from Dynamics 365, emails, and social networks; and Predictive lead scoring.

Another new update that Microsoft added with this release is the Common Data Service for Apps that ships with PowerApps. This update will allow a broad set of capabilities for modeling refined business solutions to help users tailor existing apps across Dynamics 365 and Office 365 or build new ones.

Along with the above updates, Common Data Service for Analytics has been added to Power BI to help users integrate and evaluate data isolated across business apps and services with an extensible business application schema built on the common data model. Companies will be able to integrate data from multiple sources and allow users with access to business analytics across all data relevant to them.
About Raybiztech
Raybiztech is a leading global Information Technology (IT) Services and Solutions, a CMMI Level 3, ISO 27001:2013 Certified Company. We are a Member of NASSCOM, HYSEA, NJTC, and AIIA. Raybiztech offers comprehensive end-to-end IT Services for Business Application Development, Enterprise Solutions, Enterprise Collaboration Services, Testing and Quality Assurance Services, Cloud Computing and IT Infrastructure Management to organizations in the Banking & Finance, Insurance, Healthcare, Manufacturing, Retail, Media & Entertainment, Leisure & Travel, Telecom and Energy & Utilities verticals as well as Independent Software Vendors.