How to Earn Customers for Life by Using Microsoft Dynamics 365?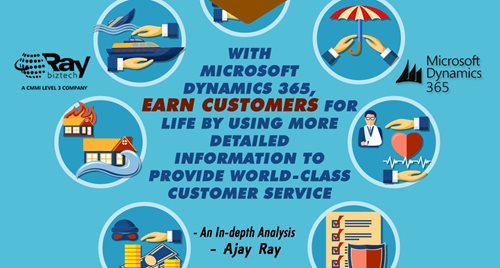 Getting started with big data analytics, and turning customer data into actual actionable insight can be difficult, complicated and expensive. Organizations today face overwhelming amounts of data, rapidly changing customer behaviors, and incresed pressure to find solutions and insights. Customers expect relevant, tailored experiences, and the only way to provide that level of personalization is with tools that can deliver insight from your consumer data effectively, and efficiently.
With Microsoft Dynamics 365 Development for Customer Insights, you can make sense of your data to engage customers in more personalized and effective ways. Without the need for a data mining specialist.
Harness the power of Dynamics 365 for Customer Insights to:
Connect all of your data into one place, displayed on an easy-to-use customer dashboard.
Empower your employees with actionable customer insights.
Get results quickly by leveraging Microsoft`s complete SaaS solution with pre-packaged analytics.
Customer service plays a role in the choice of and loyalty to a brand for 97% of consumers around the globe, which makes providing exceptional experiences a customer service imperative.
At the same time, customer engagement is rapidly evolving: everyone is mobile, everyone is social, people trust opinions from their friends and peers more that they trust brands. And it`s easier than ever to switch to a competitor. It`s a whole new world where the customer has control and power. Having the ability to have a deep understanding of and connect with customers is critical to any company`s business strategy.
Microsoft Dynamics 365 for Customer Service improves each step of the service experience, helping organizations engage customers, empower employees, optimize operations and find new ways to provide value to their customers.
Consistency and Loyalty
Provide the seamless service your customers expect by meeting them where they are with the information they need, every time.
Make Your Agent's Jobs Easier
Give your agents complete information - in a single customer service software app - to make smart decisions and provide great service.
Get an Adaptive Engine
Respond quickly to customer and market changes within an agile, cloud-based environment that has digital intelligence built in.
Unified Platform
Offer a unified service experience across self-service and assisted service channels.
360 Customer View
Understand customer history, preferences and voice of the customer to personalize every interaction.
Personalized Engagement
Leverage insights and resources to create individualized and consistent experiences across channels.

Source : www.linkedin.com/pulse/microsoft-dynamics-365-earn-customers-life-using-more-ajay-ray