With Microsoft Dynamics 365, Turn Relationships into Revenue by Bringing Digital Intelligence into Every Deal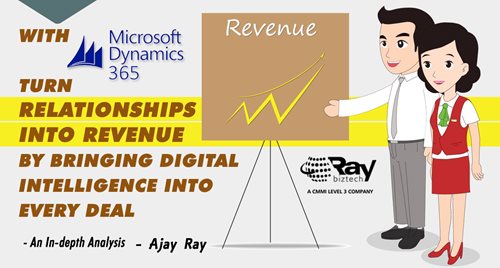 Use digital intelligence to re imagine what's possible for your business. Dynamics 365 unifies CRM and ERP capabilities into applications that work seamlessly together across sales, customer service, field service, operations, financials, marketing, and project service automation. Start with what you need, and applications as your business grow.
Microsoft Dynamics 365 developer solution for Sales lets you grow your business, stay focused, and close deals faster by bringing digital intelligence at every opportunity so you can better predict your customer's needs. Being able to foresee customer needs lets you focus on the personal attention that builds relationships and revenue for your business with all your current and prospective customers simply by utilizing actionable insights, overseeing relationship management, improving sales productivity, and increasing sales performance.
With relationship management, you can foster customer relationships through authentic, personal engagement. Businesses can unify your sales experience around relationships. With relationship-centered insights, you'll be able to deliver the personal engagement that your customers demand and expect.
Actionable insights allow you to focus on the right priorities. Take action with confidence when you derive meaningful intelligence from large amounts of complex data. This provides sellers with contextual, actionable insights that are easy to understand.
Focus and act on the right priorities
Take action with confidence. Derive meaningful intelligence from large amounts of complex data to deliver simple to understand, actionable insights that are in the context of the customer relationship.
Increase sales velocity by identifying prospects most likely to buy based on predictive intelligence
Sell smarter with signals from Office 365 and Dynamics 365 that reveal relationship health and risk so you know the best action to take next
Build trust with customers and increase opportunities by offering relevant product recommendations
Engage your customers in more personalized, effective ways through customer intelligence.
Create a culture that Nurtures success
Accelerate your sales performance with real-time analytics based on historical data and predictive information. Inspire, onboard, coach, and motivate your team to achieve more through fun, engaging competitions.
Get answers fast using dashboards, contextual charts, and Power BI Q&A for natural language queries
Hit your numbers by setting goals, monitoring results, and providing feedback and coaching in real time.
Ease onboarding and align sales behavior through sales management software and interactive help and documentation
Spend more time Selling and less time on Administration
Increase revenue, boost productivity, gain key insights, and reduce costs when you automate your sales processes through a highly intuitive interface and Microsoft Office-embedded capabilities.
Work where and how you want to, managing customers and deal using familiar, preferred tools
Recruit, onboard, and strengthen your partner channel through deeper enablement and activation
Work on the go-anytime, anywhere-with rich, mobile apps that provide contextual news, social data, and task flows
Know what steps to take next to close deals faster by using process automation and a guided sales process
Source:
https://www.linkedin.com/pulse/microsoft-dynamics-365-turn-relationships-revenue-bringing-ajay-ray/