How Microsoft Dynamics 365 can help your Business Growth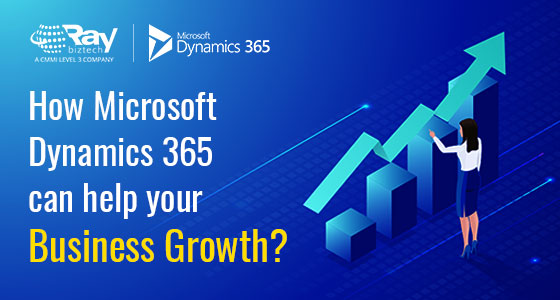 Microsoft Dynamics 365 is a cloud-based ERP and CRM application suite that helps you drive business growth and success by bringing all of your business requirements together in the cloud.
Microsoft Dynamics 365 has Significant Capabilities that can help improve your Business
Flexibility and Customization
The Dynamics 365 licensing model allows you to select and choose what you need, allowing you to create a custom solution that meets your specific needs. Microsoft-approved extensions and plugins are included with Dynamics 365 solutions to let you modify your solution and provide access flexibility.
Security and Compliance
The security model of the Dynamics 365 platform ensures the integrity and privacy of your data. You never lose your data with Microsoft Dynamics because it is safe and backed up in Microsoft's secure cloud, and you have complete control over the data that users have access to.
Native Intelligence and Real-Time Insights
Microsoft Dynamics 365 includes Power BI, Microsoft's AI-powered business intelligence tool, as an integrated feature that provides limitless reporting and analytical capabilities. The dashboards are natively connected with Dynamics 365 solutions, providing insights in a single interface and allowing you to evaluate data in order to deliver meaningful feedback and predictions.
Easy Access and No Data Silos
The cloud-based functionality of Dynamics 365 creates a central database that can be accessed by users from anywhere. This centralized system assists you in breaking down data silos and seamlessly sharing information. This provides you with a complete picture of your organization, and its workflows will help users work more efficiently.
Automation and Productivity
Microsoft Dynamics 365 has recently emphasized Artificial Intelligence. The solution's built-in automation functions can help take care of repetitive tasks that take more time and effort from your employees, freeing up more time for them to focus on critical tasks. Dynamics 365 is packed with excellent business tools that will help you and your team work more efficiently.
Unified and User-Friendly Interface
Dynamics 365 provides your team with a unified, user-friendly interface. The familiar interface promotes user adoption and makes it easier for users to customize their solution to create new apps using programs such as Microsoft Flow.
Improved Marketing and Higher Sales
Dynamics 365 provides excellent capabilities to marketing and sales teams. Dynamics can assist you in improving marketing and sales by providing a smart communication system that ensures different departments work smarter by using real-time information to make quick, informed decisions. Dynamics 365 solutions include tools for streamlining the sales process by removing redundant steps and faulty procedures in order to meet customer requirements efficiently.
Personalized Communication and Customer Satisfaction
With personalized communication, Dynamics 365 tools help you improve customer relations management. With the solution, you can easily access and manage all of your customer data, allowing you to track leads with real-time data. The Dynamics 365 system includes features that allow you to create personalized contact messages as well as an intelligent feedback system for making intuitive changes to customer satisfaction.
Relationship Assistant and LinkedIn Sales Navigator
Microsoft Dynamics 365 includes a relationship assistant that assists you in tracking your daily activities. This assistant allows you to create action cards that are displayed throughout the application to provide smart, achievable ideas. Microsoft Dynamics 365 works well with LinkedIn Sales Navigator to help your team manage social media handles by connecting with your targeted audience and increasing the rate of personalized engagement.
Report Wizard and Comprehensive Reporting
Dynamics 365 includes the 'Report Wizard,' which is found in the Customer Engagement apps. This allows you to create reports without stress and to generate custom reports within Power BI to analyze, predict, and examine data.
Dynamics 365 and Office 365
All Dynamics 365 solutions integrate seamlessly with Office 365 tools such as Skype, SharePoint, Yammer, Outlook, Teams, and OneDrive. This provides a much better and more consistent experience for all users, allowing your teams to be more productive and provide more effective results.
About Ray Business Technologies
Ray Business Technologies is a leading global Information Technology (IT) Services and Solutions, a CMMI Level 3, ISO 27001:2013 Certified Company. We are a Member of NASSCOM, HYSEA, NJTC, and AIIA. Ray Business Technologies offers comprehensive end-to-end IT Services for Business Application Development, Enterprise Solutions, Enterprise Collaboration Services, Testing and Quality Assurance Services, Cloud Computing and IT Infrastructure Management to organizations in the Banking & Finance, Insurance, Healthcare, Manufacturing, Retail, Media & Entertainment, Leisure & Travel, Telecom and Energy & Utilities verticals as well as Independent Software Vendors.