How Healthcare Industry can secure their ICT Infrastructure, Data Access and Other Risks with Microsoft Dynamics 365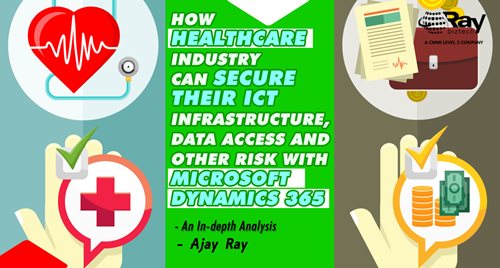 Health Organizations rely on information access to deliver quality care and services. By securely connecting systems, data, and devices, within and across organization, you can improve information management and establish a security-enhanced flow of information to help health professionals provide more efficient and connected care.
In last decade, the growth of Healthcare industry has doubled in size and continue to grow over the years to come. The growth has also doubled the need for the security of the ICT Infrastructure, data and other critical information. The customers it serves vary in sizes from all walks of the life. The success of this industry lies in introducing right products in the right market at the right time.
To survive and thrive in this industry, well integrated business solutions are necessary. Microsoft provides business solutions that allows real time communication and collaboration between a large number of employees across multiple sites in various countries to run the entire business smoothly.
Microsoft Dynamics Solutions for Healthcare enable organizations to assemble a complete, integrated set of leading edge business applications. The technology platform of Microsoft Dynamics 365 can support the Healthcare Industry with:
Just in time (JIT) Production
Supply Chain transparency and collaboration
Integrated RFID and Bar Code Systems
Cross company collaborative product development
Detailed reports to suppliers with Data from customer Forecasts
A single view of multiple facilities and departments
Industry and customer specific reports to identify and prioritize potential areas of cost savings
In Healthcare Industry, flexibility and productivity go hand in hand. Microsoft Dynamics 365 Solutions provide effective and efficient collaborative platform for networking that can handle flexibility necessary to deal with changing requirements and fluctuations in demand irrespective of the size of the operation.
You can establish interoperable, security enhanced, flexible, and scalable Healthcare services with optimized Healthcare offerings with Microsoft Dynamics 365 Solutions.
Flexible Wоrkѕtуlе
Empower your health professionals, patients and partners with the mobility and flexibility they need to be productive, and provide your ICT team with control, manageability and security.
Empower users and increase productivity
Enhance Security and Control
Simplify application and resource management
Clоud Oрtіmіzеd Data Cеntеr
Gain more value from your server infrastructure and align services to changing organizational and patient needs. Microsoft Dynamics 365 cloud optimized Data Center offerings help you establish a scalable, reliable, and available healthcare Services platform.
Improve and efficiently scale service delivery
Streamline end-to-end system management
Integrate and extend enhanced security features
Security аnd Cоmрlіаnсе
Integrate, extend, and simplify security and compliance. Microsoft Dynamics 365's security and Compliance offerings help protect your ICT Infrastructure, enabling security enhanced, contexual, and user centric access from virtually anywhere.
Increase protection to deliver security-enhanced access to all users
Integrate and extend security features across all your vulnerable applications and systems
Streamline the security necessities and manage compliance
Collaborate with cloud-based versions of familiar Microsoft Dynamics 365. It cam help you transform complex, time-consuming, ineffective operations into efficient, collaborative, information-drives process in the cloud.
Healthcare industry needs are infinite. Microsoft Dynamics 365's powerful and Intelligent cloud platform can enable your Digital Transformation, helping you better engage your staff and patients, empower your care staff, optimize your clinical and operational effectiveness, and Transform the care continuum for your organization; thus making Individuals and communities around the world healthier.
Engаgе Your Patients
Allow Health professionals to spend less time navigating technology and more time caring for their patients.
Emроwеr Yоur Care Tеаmѕ
Empower your care teams with fast, easy way to communicate with each other and their patients.
Optimize Your Clinical and Operational Effectiveness With Health Analytics
Enable health professionals and organizations to generate actionable insights from the rapidly growing data in the healthcare industry. Healthcare Information Technology helps organizations provide a higher level of care while lowering costs and improving overall efficiency through health analytics.
Trаnѕfоrm the Cаrе Cоntіnuum
Improve clinical care by painlessly making the journey to the trusted & secured cloud, where health organizations can securely house patient records and gain new intelligence from their increasingly voluminous and complex data.