How Dynamics 365 Business Central offers operational and financial edge?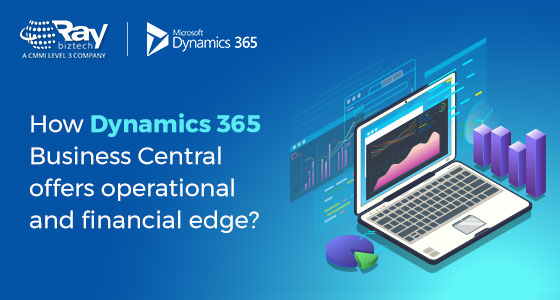 In traditional Dynamics setup, the Customer Relationship, Accounts, and Inventory systems would lack coordination and perform disparately. This would lead to loose data entities and bottleneck issues, apart from more number of employees working on manual processes and redundant data entry. The Dynamics 365 Business Central has brought all the disparate systems together as part of a single solution. Integrating all systems into a single platform drives key insights at a glance, thereby enabling real-time decision-making.
With Dynamics 365 Business Central, businesses can track vendor payments and cash flows, complete purchases and make authorizations for credit; thereby enabling the enterprise to streamline processes and make informed business decisions. This becomes possible thanks to the all-in-one cloud-based business management solution.
Below are a few of the crucial components that make up the Dynamics 365 Business Central:
Financial Management
Sales and Service Management
Project Management
Manufacturing
Reporting, Analytics and Data Warehousing
Service Order Management
Supply Chain Management
Operations Management
The Dynamics 365 Business Central can be deployed using one of the following methodologies:
Cloud: All-in-one solution is hosted on the Azure cloud servers operated by Microsoft
SaaS: Subscription service with a monthly license fee for a single user account, thereby avoiding separate expenses for hosting and license
On-Premise: Hosting and operating Dynamics 365 application with in-house IT network resources and servers.
Leveraging intelligent components, Dynamics 365 Business Central enables sharing real-time data across inventory, accounting, and sales. Thus, key insights are delivered instantly and promptly with the Business Central application. The connected workflow also offers provision to keep abreast of vendor payments, cash flows, and credit transactions along with enterprise-level security as well as scope for audit-level trials.
The Business Central application thus allows decision-makers to fine-tune business strategy by removing anomalies or deviations, and apply the most feasible model to generate ROI. All this comes with the added benefits from digital transformation, thereby keeping costs at the minimum and avoiding surplus outlays.
About Raybiztech
Raybiztech is a leading global Information Technology (IT) Services and Solutions, a CMMI Level 3, ISO 27001:2013 Certified Company. We are a Member of NASSCOM, HYSEA, NJTC, and AIIA. Raybiztech offers comprehensive end-to-end IT Services for Business Application Development, Enterprise Solutions, Enterprise Collaboration Services, Testing and Quality Assurance Services, Cloud Computing and IT Infrastructure Management to organizations in the Banking & Finance, Insurance, Healthcare, Manufacturing, Retail, Media & Entertainment, Leisure & Travel, Telecom and Energy & Utilities verticals as well as Independent Software Vendors.