How does Dynamics 365 for Marketing accelerate ROI?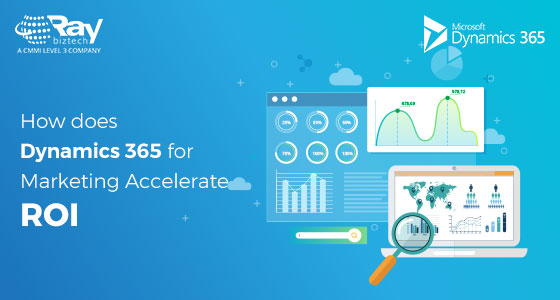 Microsoft realized the need to beat the competition from Salesforce CRM, and set out to roll Dynamics 365 for Marketing. It is available as a cloud offering, and Dynamics 365 CRM can be used independently, or with other fellow cloud offerings. The release of Dynamics 365 marketing has enabled transformation for enterprises in the marketing automation space.
Marketing Automation and CRM
A range of marketing automation solutions across the globe drives marketing capabilities in SMEs as well as large enterprises. Most of these applications work independently but can be integrated with other tools that often extend multi-media options, and are often bundled as part of the original CRM offering. Such an integrated solution can be leveraged across the customer life-cycle to assess and measure ROI in order to aim for bigger returns in terms of marketing initiatives.
Dynamics 365 for Marketing is integrated with other units of the CRM System such as Customer Service and Sales for better collaboration among functional units of the entire marketing department. The application is configured to run across diverse platforms, and can be used seamlessly across the website (desktop), tablet, and the mobile version by virtue of a unified interface.
Click Dimensions, an add-on component, offers an ideal fit for partner-hosted or on-premise Dynamics environment, including the legacy CRM. Click Dimensions can offer better web tracking capabilities over other social media tools.It uses the Common Data Model to share as well as share data; which facilitates retrieval of information for timely decisions based on crucial insights for the marketing teams.
Dynamics 365 for Marketing: Key Takeaways
Build a solid marketing campaign by combining some of the most dynamic data-driven capabilities with the creative advantage from a robust interface design.
Customer Journey: Businesses are often compelled to offer incentives on purchase and let the end-users know more about the product or service up-close. Dynamics 365 for Marketing helps focus on each step throughout the customer journey, beginning with the dispatch of an introductory 'ice-breaking' e-mail.
At each step of a customer roadmap, Dynamics 365 helps determine the subsequent course of action based on the response of the mail recipient or a seminar attendee towards the call for action. For example, a user who responds to the mailer promptly can be sent a different message, and custom responses can be built for a different set of contacts.
Businesses can also build a customer journey tailored to develop personalized interactions, and streamline campaigns with a focus on key customer scenarios in order to create the right customer experience roadmap based on real-time visualization of campaigns.
Event Management: With Dynamics 365 for Marketing, firms can create a unified marketing calendar and plan events for promoting specific product categories and build rapport with the right target audience.The feature also supports the entire speaker and attendee management, registrations and attendance-tracking.
The tool lets organize and execute targeted events with a focus on seminars and conferences, and various in-person events that let the prospects develop an understanding of the product before a real-life experience. Another complementary tool, 'Dynamics 365 Portals', helps in streamlining event registration and itinerary, in addition to engaging online surveys to boost the overall participation of the line-up of prospects.
Lead Management: As all marketing campaigns seek qualified leads, this Dynamics 365 for Marketing feature is all about generating and managing leads effectively. An effective scoring and lead nurturing system allows businesses to convert most valuable leads to customers and offer a truly engaging experience.
Leads collected through LinkedIn can be collated with the Dynamics 365 Connector for LinkedIn. Dynamics 365 for Marketing also offers professional templates and design tools for multi-channel campaigns.
Businesses can rate leads through the number of site visits, responses to emails, and participation in surveys or questionnaires. This helps proceed in the right direction to assess and evaluate interaction with prospects and pipeline progression to achieve and close actual sales out of the pool of leads.
Webinars: Marketing units can integrate with third-party webinar platforms by leveraging Dynamics 365 for Marketing. These facilitate webinar alerts and the scheduling of live sessions to generate maximum outreach for lead generation.
Microsoft Dynamics 365 for Marketing is poised to offer much more for enterprises that plan to leverage beyond the native functionality of the traditional Dynamics 365 app for Sales.
About Raybiztech
Raybiztech is a leading global Information Technology (IT) Services and Solutions, a CMMI Level 3, ISO 27001:2013 Certified Company. We are a Member of NASSCOM, HYSEA, NJTC, and AIIA. Raybiztech offers comprehensive end-to-end IT Services for Business Application Development, Enterprise Solutions, Enterprise Collaboration Services, Testing and Quality Assurance Services, Cloud Computing and IT Infrastructure Management to organizations in the Banking & Finance, Insurance, Healthcare, Manufacturing, Retail, Media & Entertainment, Leisure & Travel, Telecom and Energy & Utilities verticals as well as Independent Software Vendors.