How does Dynamics 365 Customer Service Insights impact Business Performance?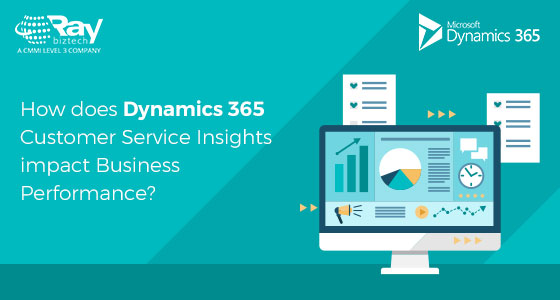 Firms are looking at innovation at each step to improve productivity and customer satisfaction by the numbers. Dynamics 365 Customer Service Insights would help organizations with built-in interactive charts and dashboard filters that categorize customer scenarios to improve productivity as well as streamline entire customer journeys. This also leads to the greater overall productivity of the customer-centric areas with the desired impact on service performance.
Users can build upon knowledge-base and set specific objectives in applying the lessons learned to various issues associated with performance or system stability. The Dynamics 365 options allow building a repository of insights into major issues that could affect customers if those are left unresolved.
Virtual Agents
The Dynamics 365 Virtual Agent for Customer Service helps translate the findings from Customer Service Insights, towards timely fulfilment of common requests and enabling a positive customer experience. In this scenario, AI acts as a catalyst for change by transforming the knowledge-based customer service process. The resolution of cases associated with a single topic brings about a change in the performance management and customer service levels to the optimum desired level.
AI Insights Charts
Dynamics 365 AI Charts help you identify the greatest impact on business based on intelligently grouped cases on individual topics. AI Charts are visual controls that include the impact field for select scenarios, showing the level of impact by color. A blue-green bar shows a positive effect, while a negative one is indicated with a red or blue-green bar. Identifying and addressing the topics highlighted in red will make the most corrective impact on system performance.
Natural Language Support
Natural Language compatibility with Dynamics 365 with Service Agents eliminates the need for tagging cases manually and simplifies the selection of the topics by agents on behalf of the users. In this way, users can build upon improvements suggested by Customer Service Insights within specific operational and tactical areas. The approach will ultimately help evaluate agent performance and the overall inefficiencies to be addressed in the system to reduce wait times and decrease customer service costs. The natural language capabilities are able to identify well-defined KPIs with finely outlined topics that are grouped intelligently.
The release of Dynamics 365 Insights helps organizations and customer service personnel in a number of ways:
Identifying topics of relevant significance and the nature of service topics impacting crucial business areas
Seamless visibility into KPI metrics powered with built-in dashboards for overall consistency and accuracy
Filtering of topics based on issues trending currently as well as topics with an impact on business scenarios
Customer Service Insights for service managers gives higher visibility into performance for client satisfaction
Customer service data filter by the time period and channel, number of cases, and the most relevant topic
Now quickly connect your customer data with Dynamics 365 AI to generate powerful insights based on trending user scenarios and topics for overall performance management towards memorable customer service experience.
About Raybiztech
Raybiztech is a leading global Information Technology (IT) Services and Solutions, a CMMI Level 3, ISO 27001:2013 Certified Company. We are a Member of NASSCOM, HYSEA, NJTC, and AIIA. Raybiztech offers comprehensive end-to-end IT Services for Business Application Development, Enterprise Solutions, Enterprise Collaboration Services, Testing and Quality Assurance Services, Cloud Computing and IT Infrastructure Management to organizations in the Banking & Finance, Insurance, Healthcare, Manufacturing, Retail, Media & Entertainment, Leisure & Travel, Telecom and Energy & Utilities verticals as well as Independent Software Vendors.